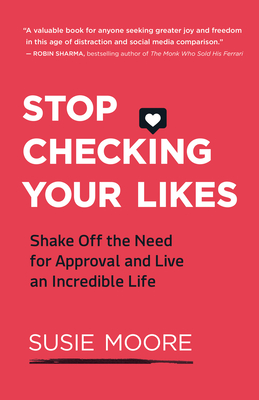 Stop Checking Your Likes (Paperback)
Shake Off the Need for Approval and Live an Incredible Life
New World Library, 9781608686735, 240pp.
Publication Date: April 7, 2020
* Individual store prices may vary.
Description
In the age of social media, too many people obsess over Facebook likes, Twitter retweets, and other digital tokens of popularity. That habit is a symptom of a deeper problem: the need for constant approval. Too often we live our lives for an audience and miss out on the kind of life we really desire. In Stop Checking Your Likes, author and life coach Susie Moore shows readers how to escape the "approval trap" and accept themselves as they are right now. With warmth and down-to-earth humor, Moore reveals fourteen principles for developing unshakable self-confidence, illustrating her lessons with stories from her experience as a young executive and self-made entrepreneur. Along the way, she encourages readers to celebrate their talents, reaffirm their self-worth, and laugh off trolls and naysayers. By recognizing their own unique value, readers will find the courage to live with freedom and ease, regardless of how many likes they get.
About the Author
A former sales director for a Fortune 500 company, Susie Moore is a life coach and adviser to startups in Silicon Valley and New York. Her work has appeared in publications such as Business Insider, Entrepreneur, Marie Claire, and countless others. A native of England, she now lives and works in Miami.