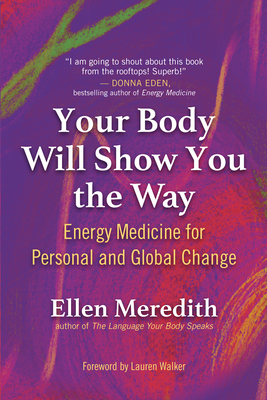 Your Body Will Show You the Way
Energy Medicine for Personal and Global Change
Paperback

* Individual store prices may vary.
Description
In the tradition of New York Times bestselling authors Donna Eden and Caroline Myss, Ellen Meredith offers easy-to-follow exercises, illustrative stories, and lively explanations for enlisting the power of energy to heal and guide In a world of upheaval and rapid change, how can you enlist the intelligence of your body's subtle energies to help you heal, build resilience, and evolve? This revolutionary new book presents energy medicine as a conversation between body, mind, and spirit. It gently guides you on a journey to create personal, social, and even planetary well-being by working from the inside out. In a highly personal yet universally resonant voice, Ellen Meredith teaches you how to: enlist the intelligence of the body's subtle energies to heal yourself and navigate uncertaintyground and anchor yourself in turbulent times and create coherence between your body, mind, and spiritwork with the energies you are made of to dial into larger webs of connectionemploy easy-to-use tools to bring Spirit into your choices and actions every dayremedy personal ruptures in ways that spread healing and well-being in and around you
Your Body Will Show You the Way will equip you with a means of navigating the world that is internally guided yet globally aware and trustworthy in every situation, both personal and communal.

New World Library, 9781608688227, 360pp.
Publication Date: September 13, 2022
About the Author
Ellen Meredith, DA, EEMAP, is the author of The Language Your Body Speaks and Listening In: Dialogues with the Wiser Self. She has been in practice since 1984 as an energy healer, conscious channel, and medical intuitive, helping over ten thousand clients and students worldwide. As a healer and energy medicine practitioner, Meredith supports clients to engage with the body's energies through dialogue and to use energy medicine to activate healing. She teaches energy medicine courses on the Shift Network and lives in Marin County, California. EllenMeredith.com