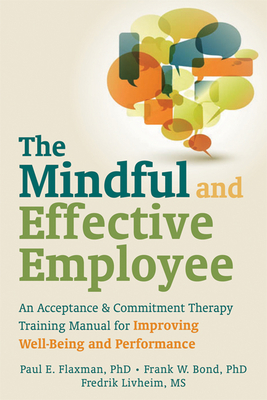 The Mindful and Effective Employee
An Acceptance & Commitment Therapy Training Manual for Improving Well-Being and Performance
Paperback

* Individual store prices may vary.
Description
The importance of improving and maintaining employees' psychological health is now widely recognized by occupational health researchers and practitioners, business leaders, human resource professionals, and policy makers alike. Indeed, a growing body of research has established that psychological well-being is one of the most important factors in job performance.
The Mindful and Effective Employee offers an evidence-based workplace training program based on acceptance and commitment therapy (ACT). The program is specifically designed to improve employees' psychological health--as well as their effectiveness at work and in their personal lives--through a combination of mindfulness and values-guided behavioral skills. This book is designed for use by psychologists, coaches, occupational health practitioners, and human resource professionals who are interested in improving employee well-being, performance, and quality of life.
The training program described in this book is designed to:
- Promote employee self-awareness
- Help employees find purpose, direction, and meaning
- Offer new ways to improve work and life effectiveness
- Help employees identify and pursue valued goals and actions
New Harbinger Publications, 9781608820214, 248pp.
Publication Date: May 1, 2013
About the Author
Paul E. Flaxman, PhD, is senior lecturer in psychology at City University London. He specializes in adapting acceptance and commitment therapy (ACT) to help improve employees' mental health and performance. Evaluations of Paul's ACT interventions have been published in numerous scientific papers and books, and he has been invited to present his research at conferences around the globe. Paul recently directed two major projects focused on delivering ACT and other mindfulness-based interventions to public sector workers across the United Kingdom. Frank W. Bond, PhD, is professor of psychology and director of the Institute of Management Studies at Goldsmiths, University of London. His research and consulting work focus on the psychological and organizational processes that underpin peak performance and well-being in the workplace. Fredrik Livheim, MS, is a licensed clinical psychologist at FORUM, a research center for psychosocial health at the Karolinska Institute in Stockholm, Sweden. He has trained more than 400 professionals in how to use ACT in group format to improve employees' mental health. His research focuses on the use of ACT in group format in the workplace. Foreword writer Steven C. Hayes, PhD, is a founder of acceptance and commitment therapy and a professor of psychology at the University of Nevada. An author of thirty-four books and more than 470 scientific articles, he has shown in his research how language and thought lead to human suffering. Hayes has been president of several scientific societies and has received several national awards, including the Lifetime Achievement Award from the Association for Behavioral and Cognitive Therapy.
or
Not Currently Available for Direct Purchase