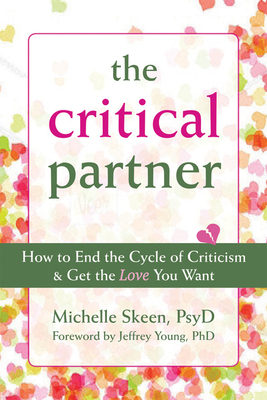 The Critical Partner (Paperback)
How to End the Cycle of Criticism & Get the Love You Want
New Harbinger Publications, 9781608820276, 156pp.
Publication Date: November 3, 2011
* Individual store prices may vary.
Description
When you are in a relationship with a critical partner--someone who constantly blames you and holds you to unrealistic standards--you may feel picked apart, unworthy, and unhappy. You may start to wonder if you'll ever be good enough for your partner. This guide can help you repair your relationship by getting to the root of why your partner criticizes you so that you both can build a more loving and supportive partnership.
Based in schema therapy, The Critical Partner can help you gradually change unhealthy relationship patterns and help your partner move beyond the need to criticize. Through a series of assessment quizzes and worksheets, you'll learn what's driving your partner's behavior and what makes you vulnerable to critical attacks. You'll also discover alternative coping strategies for deflecting criticism and break the long-standing conflicts that keep you from moving forward as a couple. This book will help you get to the root of the problem so that you can repair your relationship and get the love you want.
About the Author
Michelle Skeen, PsyD, has studied schema therapy under Matthew McKay and Jeffrey Young. She completed her postdoctoral work at the University of California, San Francisco, and maintains a private practice in San Francisco, CA, where she lives and works. She is coauthor of the forthcoming Acceptance and Commitment Therapy for Interpersonal Problems. www.thecriticalpartner.com Foreword writer Jeffrey Young, PhD, is founder of schema therapy, director of the Schema Therapy Institute of New York, and a faculty member at Columbia University College of Physicians and Surgeons. He is author of Schema Therapy: A Practitioner's Guide and Reinventing Your Life.
or
Not Currently Available for Direct Purchase