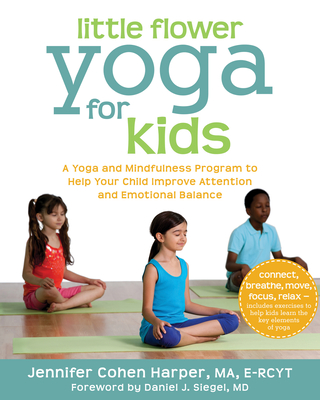 Little Flower Yoga for Kids (Paperback)
A Yoga and Mindfulness Program to Help Your Child Improve Attention and Emotional Balance
New Harbinger Publications, 9781608827923, 179pp.
Publication Date: November 1, 2013
* Individual store prices may vary.
Description
Wouldn't it be great if your child could exercise, have fun, and build concentration skills all at the same time?
In 2006, the Little Flower Yoga program was developed by teacher and certified yoga instructor Jennifer Cohen Harper, when her successful use of yoga in her kindergarten classroom led to requests by other students, teachers, and administrators for yoga programs of their own. Harper slowly began to teach more and more yoga classes, and eventually recruited other yoga teachers with education backgrounds to continue growing what had become a flourishing program.
Little Flower Yoga for Kidsoffers this fun and unique program combining yoga and mindfulness in an easy-to-read format. Written specifically for parents and kids, the book aims at teaching children to pay attention, increase focus, and balance their emotions--all while building physical strength and flexibility. Based on a growing body of evidence that yoga and mindfulness practices can help children develop focus and concentration, the simple yoga exercises in this book can easily be integrated into their child's daily routine, ultimately improving health, behavior, and even school achievement.
The book details the five main components of the program: connect, breath, move, focus, and relax. Drawing on these components, Harper shares practical activities that parents can use with their children both on a daily basis and as applied to particularly challenging issues. And while this book is targeted to parents, teachers may also find it extremely useful in helping students achieve better attention and focus.
For more information about this innovative program, visit www.littlefloweryoga.com.
About the Author
Jennifer Cohen Harper, MA, E-RCYT, is a leading voice in the children's yoga community. She is the founder and director of New York-based Little Flower Yoga and The School Yoga Project, cofounder and board vice president of the Yoga Service Council, and an active member of the International Association of Yoga Therapists. Harper leads the well-respected Little Flower Yoga Teacher Training for Children program, provides therapeutic yoga classes to children and families, and frequently collaborates with other organizations to bring yoga for children to places as diverse as tent cities in Port au Prince, Haiti, and FAO Schwarz retail stores in New York City. Foreword writer Daniel J. Siegel, MD, is an internationally acclaimed author, award-winning educator, and child psychiatrist. He is currently a clinical professor of psychiatry at the UCLA School of Medicine where he also serves as a co-investigator at the Center for Culture, Brain, and Development and co-director of the Mindful Awareness Research Center. He is also the executive director of the Mindsight Institute, an educational center devoted to promoting insight, compassion, and empathy in individuals, families, institutions, and communities. His books include Mindsight, The Developing Mind, The Mindful Brain, The Mindful Therapist, Parenting from the Inside Out, and The Whole-Brain Child. He lives in Los Angeles, CA, with his wife and two children.