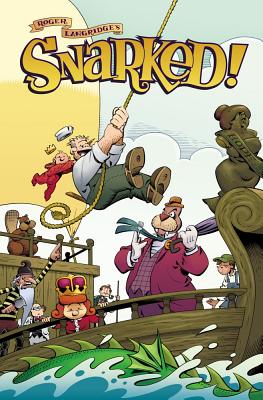 Snarked Vol. 3 (Paperback)
Kaboom, 9781608862955, 112pp.
Publication Date: February 5, 2013
Description
A fresh and epically funny spin on a classic from fan-favorite Roger Langridge. Harvey Award winner Roger Langridge (THE MUPPET SHOW, THOR: THE MIGHTY AVENGER) brings you the latest chapter of his critically acclaimed series SNARKED Shipwrecked on a deserted isle with no food and no map, our heroes stumble upon an ancient, lost civilization. But when the Walrus and the Carpenter are treated like plump deities, will Scarlett and Rusty be able to pry them away from their feast before they become one?
About the Author
Roger Langridge has been producing comics for over twenty years. Most recently, he has attracted critical attention for his work on the Harvey Award-winning THE MUPPET SHOW COMIC BOOK (BOOM! Studios) and THOR: THE MIGHTY AVENGER (Marvel Comics); other works of note include Marvel's FIN FANG FOUR, Fantagraphics' ZOOT! and ART D'ECCO (in collaboration with his brother Andrew), and the NCS, Ignatz, Eisner and Harvey Award-nominated comic book FRED THE CLOWN. He currently lives in London with his wife Sylvie and their two children.
Advertisement