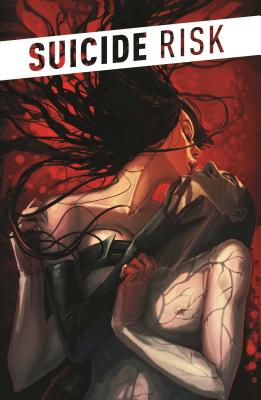 Suicide Risk Vol. 1
Paperback

* Individual store prices may vary.
Description
Even when there are only villains, being a hero makes you a... Eisner Award-nominated writer Mike Carey (UNWRITTEN, X-MEN: LEGACY) brings his first original ongoing series to BOOM Studios Heroes are dying, and cops are dying twofold. Humanity is underpowered in the face of their onslaught, and people are suffering untold casualties trying to stem the flow. After barely surviving a super-powered bank heist gone horribly wrong, beat cop Leo Winters vowed to try and find a way to stop them. Following a lead, he discovered two lowlifes who seemed to be able to grant a person powers...for the right price. Thing is: you don't get to choose which power. It's seemingly random, a crap-shoot, a risk. Will Leo decide to take that risk? And why is it that even the heroes in this world eventually break...bad? Eisner Award nominated writer and novelist Mike Carey (UNWRITTEN, X-MEN: LEGACY) and rising star Elena Casagrande (HULK, HACK/SLASH) deliver a smart, mind-bending deconstruction of the superhero genre that will have you questioning your definition of a hero. This volume, featuring a cover by Tommy Lee Edwards (TURF, MARVEL 1985), collects the first four issues of the critically-acclaimed series.
Boom! Studios, 9781608863327, 112pp.
Publication Date: October 22, 2013
About the Author
Mike Carey is a British writer whose work spans comics, novels, film scripts, and TV shows. After writing shorts for British sci-fi comic 2000 AD and a few one-shots for Caliber Comics during the 1990s, he was offered DC/Vertigo's LUCIFER -- henceforth the longest running and most successful Sandman-related spinoff to date. While continuing to work with DC on Vertigo series like CROSSING MIDNIGHT and graphic novels like GOD SAVE THE QUEEN, he took over as lead writer for Marvel's X-MEN (now X-MEN: LEGACY) in 2006. His work includes DC/Vertigo's HELLBLAZER, Marvel's ULTIMATE FANTASTIC FOUR, the FELIX CASTOR novels, THE STEEL SERAGLIO (with Linda and Louise Carey), and DC/Vertigo's THE UNWRITTEN (with Peter Gross).
or
Not Currently Available for Direct Purchase