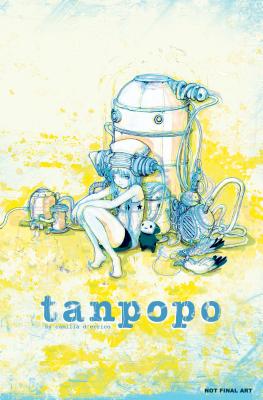 Tanpopo Collection Vol. 2 (Hardcover)
Boom! Studios, 9781608863372, 176pp.
Publication Date: May 27, 2014
* Individual store prices may vary.
Description
Tanpopo is a mysterious young girl, superhumanly intelligent and inhumanly emotionless, who embarks on a journey to experience emotion. With only the Faustian devil, Kuro, to guide her she must enter the world of humanity and discover what it means to feel. Tanpopo is inspired and narrated by passages from classic literature and poetry.The overall story arc is based on Faust, by German author Goethe, but each volume is narrated by a different classic - poem or prose - from around the world.Tanpopo is not an illustrated poem nor is it a reinterpretation of literature. It is a unique visual and literary experience that combines a rare, open storytelling format with oriental aesthetics and character development, while bringing long lost or little known classic literature to today's audience - both young and mature.
About the Author
Camilla d'Errico has been making waves in the fine art and comic industries with her manga-influenced style. Ever the prolific artist, d'Errico is an urban contemporary painter, illustrator, designer, character creator, and comic artist residing in Vancouver, Canada. Nominated for both Eisner and Joe Shuster Awards, she has worked with Random House, Dark Horse Comics, Image Comics, and Tokyopop. Her creator-owned properties include the graphic novel BURN and SKY PIRATES OF NEO TERRA. TANPOPO, d'Errico's passion project, has been embraced by fans and independent comics collectors for its highly original combination of classic poetry and literature blended with her unique "West Meets East" drawing style. She has collaborated with Neil Gaiman, Sanrio, Disney and Mattel. d'Errico has distinguished herself through her ability to seamlessly weave manga and western comic art, creating a unique style that bridges cultural and geographical boundaries, while remaining totally relevant to today's varied audience.
or
Not Currently Available for Direct Purchase