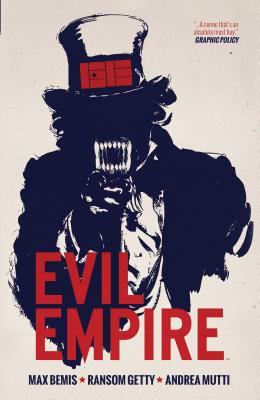 Evil Empire, Volume 1 (Paperback)
Boom! Studios, 9781608864942, 128pp.
Publication Date: April 14, 2015
* Individual store prices may vary.
Description
Politics is war without bloodshed. War is politics with bloodshed. We're often introduced to totalitarian establishments with pundits already fully in power and it's up to our hero to bring back order and peace. EVIL EMPIRE explores how unfolds in a real-world setting. How close to the precipice are we right now in the world we live in? Would we let it happen? More specific to this tale: Would we secretly WANT it to happen? Politically charged rapper Reese decries injustice. As she sneers at election year advertisements, the star of the ad, Sam Duggins, makes a surprise appearance backstage. The aspiring politician seeks to tap into the energy of Reese's fanbase by befriending her and, presumably, winning her endorsement. Then one action tears the country apart in a debate over the meaning of right and wrong, and Reese is not about to stand by as the American people support the rantings of a mad man. But how far will people go to take a stand in what they believe in? Say Anything frontman and Polarity creator Max Bemis' gripping story explores the world watching modern society gradually evolve (or is it devolve?) into an evil empire.
About the Author
Max Bemis is the lead singer and primary lyricist of the band Say Anything. He is also co-singer alongside Chris Conley of the supergroup Two Tongues, which features members from Say Anything and Saves the Day. Other side music projects include Perma as well as Max Bemis and the Painful Splits. A life long comic fan, POLARITY is Bemis's debut as a comic creator.
or
Not Currently Available for Direct Purchase