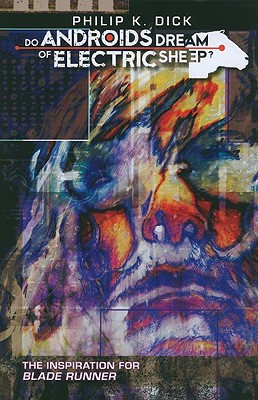 Do Androids Dream of Electric Sheep?
Hardcover

* Individual store prices may vary.
Other Editions of This Title:
Paperback (5/28/1996)
Paperback (12/1/2015)
Hardcover (9/1/2011)
Paperback (6/1/2007)
Hardcover (11/5/2013)
Hardcover (11/1/2011)
Paperback (2/1/2012)
Hardcover (8/30/2011)
Hardcover (3/29/2011)
Hardcover (4/13/2010)
Hardcover (12/1/2009)
Description
THE BOOK THAT INSPIRED THE FLIM BLADE RUNNER COMES TO COMICS THE BOOK THAT INSPIRED THE FLIM BLADE RUNNER COMES TO COMICS World best-selling sci-fi writer Philip K Dick's award-winning DO ANROIDS DREAM OF ELECTRIC SHEEP? has been "a masterpiece ahead of its time, even today"and served as the basis for the film BLADE RUNNER. BOOM Studios is honored to present the complete novel transplanted into the comic book medium, mixing all panel-to-panel continuity with the actual text from the novel in an innovative, ground-breaking 6 volume series.
Boom Town, 9781608865772, 144pp.
Publication Date: November 9, 2010
About the Author
Considered onr of the most influential science fiction minds of the 20th century, Philip K Dick's works have been the inspiration behind some of the most popular and successful films of all time, including BLADDE RUNNER, TOTAL RECALL, and MINORITY REPORT. A Hugo Award winner for his book THE MAN IN THE HIGH CASTLE, Philip K. Dick went on to change the face of science fiction literature with his body of work including DO ANDROIDS DREAM OF ELECTRIC SHEEP?, A SCANNER DARKLY, UBIK and more. Philip K Dick passed away in 1982. Rising superstar artist Tony Parker is best known for his work on WARHAMMER 40,000: FIRE AND HONOUR WARHAMMER 40,000: DEFENDERS OF ULTRAMAR, and the WARHAMMER AGE OF RECKONING MMORPG graphic novel.
or
Not Currently Available for Direct Purchase