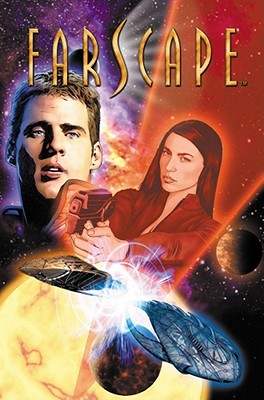 Farscape Vol. 6 (Paperback)
Compulsions: Compulsions
BOOM! Studios, 9781608866397, 112pp.
Publication Date: December 6, 2011
* Individual store prices may vary.
Description
The acclaimed science fiction series FARSCAPE continues here, from the show's creator, Rockne S. O'Bannon.

Two Leviathan crews, the outlaws on Moya, and a new crew of ex-Peacekeepers team up to take on a conspiracy that threatens the end of the Uncharted Territories. And one member of Moya's crew will be changed forever. A brand new FARSCAPE adventure written by the show creator Rockne S. O'Bannon!
About the Author
Keith R.A. DeCandido was born and raised in New York City to a family of librarians. He has written over two dozen novels, as well as short stories, nonfiction, eBooks, and comic books, most of them in various media universes, among them Star Trek, World of Warcraft, Starcraft, Marvel Comics, Buffy the Vampire Slayer, Serenity, Resident Evil, Gene Roddenberry's Andromeda, Farscape, Xena, and Doctor Who. His original novel Dragon Precinct was published in 2004, and he's also edited several anthologies, among them the award-nominated Imaginings and two Star Trek anthologies. Keith is also a musician, having played percussion for the bands the Don't Quit Your Day Job Players, the Boogie Knights, and the Randy Bandits, as well as several solo acts. In what he laughingly calls his spare time, Keith follows the New York Yankees and practices kenshikai karate. He still lives in New York City with his girlfriend and two insane cats.
or
Not Currently Available for Direct Purchase