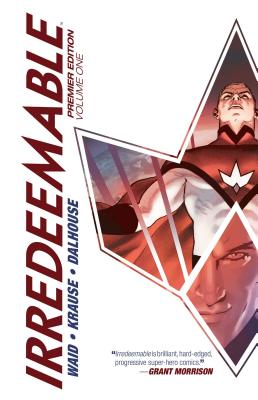 Irredeemable, Volume 1 (Hardcover)
Boom! Studios, 9781608867882, 208pp.
Publication Date: January 12, 2016
Other Editions of This Title:
Paperback (10/6/2009)
* Individual store prices may vary.
Description
When the Plutonian, the world's greatest superhero, snaps and turns into the world's greatest villain, only his former teammates have a chance at stopping his rampage. But while on the run from the world's most powerful and angry being, will these former teammates discover his secrets in time? How did he come to this? What became of the hope and promise once inside him? What happens to the world when its savior betrays it? What makes a hero irredeemable? An apocalyptic superhero tale by the author of Empire and multiple Eisner Award winner Kingdom Come Mark Waid is one of comics' favorite storytellers, having amassed a long list of critically acclaimed hits in his 20-year career and writing such iconic characters as Superman, Captain America, Batman, The Flash, and Wonder Woman. Waid earned a legion of fans because his stories tended to ground seemingly infallible heroes, and in titles like DC's Kingdom Come, Gorilla Comics' Empire, and BOOM Studios' own Irredeemable, he showed the other side of what it's like to wear the capes and tights. We are proud to present Waid's award-nominated Irredeemable in a new collection of oversized, deluxe hardcovers for existing and new fans to enjoy.
About the Author
A New York Times bestselling author, Mark has written thousands of comic books and graphic novels in his 28-year career. His award-winning graphic novel with artist Alex Ross, KINGDOM COME, is one of the best-selling comics collections of all time. Currently, he writes DAREDEVIL for Marvel Comics, IRREDEEMABLE for BOOM! Studios, and ROCKETEER: CARGO OF DOOM for IDW. Mark maintains a process blog at markwaid.comthat is full of advice and discussion for experienced print-comics professionals and aspiring digital-comics creators.
or
Not Currently Available for Direct Purchase