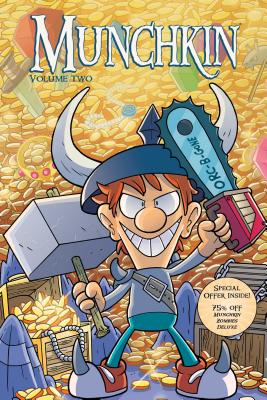 Munchkin, Volume 2 (Paperback)
Boom Box, 9781608868056, 112pp.
Publication Date: May 31, 2016
* Individual store prices may vary.
Description
Kick open the door. Kill the monster. Steal the treasure. Screw over everybody you come in contact with. Munchkin Volume 2, based on the popular game series, collects stories from the world of the fantasy roleplaying satire. What do Munchkins do? They play for the win. They are rules lawyers. They backstab. They gloat. They whine when someone else backstabs or gloats. Welcome to the world of Munchkin, written by fan favorites Tom Siddell (Gunnerkrigg Court) and Jim Zub (Samurai Jack) with art by Ian McGinty (Bravest Warriors), Mike Holmes (Bravest Warriors), Rian Sygh (Regular Show), and John Kovalic (Munchkin Game).