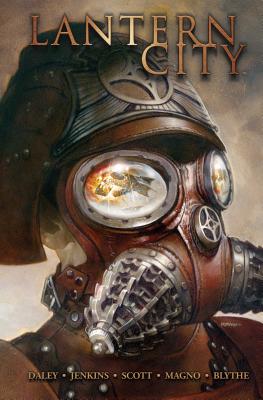 Lantern City, Volume 1 (Hardcover)
Archaia, 9781608868278, 128pp.
Publication Date: April 5, 2016
* Individual store prices may vary.
Description
How far would you go to be with the person you love? Sander Jorve just wants to keep his wife and son safe. Living in the brutalized lower class of Lantern City means living in near constant darkness, the enormous walls of the city always looming overhead, while the upper class enjoys the elevated, interconnected towers and airships above. When Sander's brother-in-law, the persuasive activist Kendal, convinces him to infiltrate the brutal ranks of the Guard, he's set on a dangerous path that will test his abilities and beliefs, all in the name of making a difference for his family and his caste. From the writings of Jules Verne and H.G. Wells, to comics like The League of Extraordinary Gentlemen, and Lady Mechanika, the detailed and imagination-fueled steampunk movement has excited fans worldwide. Set in an original, sprawling steampunk world, Lantern City explores everything we love about the genre and what it takes to change a person's place in the world.
About the Author
The creator of Lantern City, Trevor Crafts is no stranger to building worlds. Winner of the LATV Festival and numerous industry awards, including an Emmy(R), Trevor has spent his career creating dynamic stories with striking visuals featuring strong characters. His love of all things fantastic was nurtured by his dad, who opened Trevor's mind to science fiction literature and film at an incredibly young age. Trevor, now CEO of Macrocosm Entertainment, has acted as producer, writer, and director and seems to work best on little to no sleep, fulfilling multiple roles at a time. When asked by his grandparents at age ten what he wanted to be when he grew up, Matthew answered confidently, 'a writer, historian, or comedian.' He wasn't too far off, finding himself in adulthood writing for film & television (winning an Emmy(R) along the way). He has always been attracted to genres, especially Horror and Sci-Fi, and recently wrote the horror movie Flay (2015). He wrote the Lantern City prequel novel Rise and is currently at work on the Lantern City comic book series.