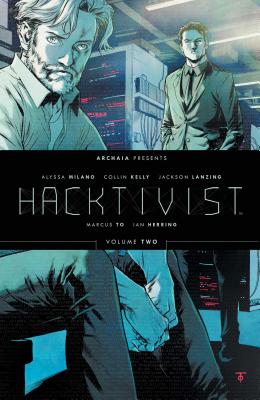 Hacktivist Vol. 2, 2
Hardcover

* Individual store prices may vary.
Description
WE ARE WHAT YOU MADE US. ?Nate Graft and Edward Hiccox were the young, brilliant co-founders of the social networking company YourLife while secretly running ?.sve_urs3lf?, a hacker collective enabling revolutions around the globe. It's been six months since Ed was killed by a drone on national television while fighting for freedom. It's been six months since Nate lost his company, his best friend, and his mission. Now in charge of the government organization VIGIL, the front line of America's ongoing cyber operations, Nate has started to pick up the pieces of his life when the government comes under attack from a new breed of hacker...working under the name .sve_urs3lf. Using Nate and Ed's former handle, they want to know the truth of what happened six months ago by any means necessary. This time, war is the home front and Nate will have to look to his past if he's going to save the future. From the creative mind of Alyssa Milano, written by Collin Kelly & Jackson Lanzing, and illustrated by Marcus To, Hacktivist 2 is an action-packed cyber thriller that questions the difference between good and evil in the age of technology.
Archaia, 9781608868612, 176pp.
Publication Date: June 1, 2016
About the Author
Alyssa Milano is a actress, producer and philanthropist best known for her work in television and global activism. Milano's rich television and film career began on ABC's Whose the Boss, continuing on to include lead roles in the long-running series Melrose Place and Charmed as well as numerous other shows and films. She is currently starring in ABC's Mistresses. Alyssa was named a UNICEF National Ambassador in 2003 for her charitable work on behalf of children as well as the founding ambassador for the Global Network for Neglected Tropical Disease Control (GNNTDC). She was awarded the Spirit of Hollywood Award in 2004 by The John Wayne Cancer Institute and the Associates of Breast & Prostate Cancer Studies for her charitable work. She currently resides in Los Angeles. Hacktivist is her first graphic novel. Jackson Lanzing & Collin Kelly are writers with a decade of experience in a variety of mediums, from features to animation to comic books. As comics creators, Lanzing and Kelly have written for DC Entertainment, BOOM! Studios, and IDW on titles including Batman & Robin Eternal, Grayson, and Hacktivist. This year, they released their first creator-owned comic at BOOM! Studios, the critically-acclaimed ongoing teenage space adventure Joyride. Marcus To is a Canadian artist and illustrator whose credits include Cyborg 009, Red Robin, Huntress, Soulfire and The Flash. Born in Red Deer, Alberta, Canada, he has been a part of the American comic book industry since 2004. To lives in Toronto, Ontario and is a member of the Royal Academy of Illustration and Design. You can follow his adventures at MarcusTo.com.
or
Not Currently Available for Direct Purchase