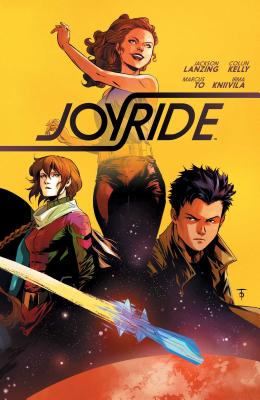 Joyride Vol. 1
Paperback

* Individual store prices may vary.
Description
Earth Sucks. Steal a Spaceship.

Earth sucks. The stars have been blocked out for so long that people have forgotten there was anything else besides the World Government Alliance watching over them. Uma Akkolyte is a girl who shoots first, leaps before she looks, and is desperate for any means to leave her planet behind. And so she does. When Uma jacks an alien spaceship and punches through the stratosphere she sets forth on an adventure with an unlikely crew who are totally not ready for all the good, bad, and weird the universe will throw at them.

From writers Jackson Lanzing and Collin Kelly (Batman and Robin Eternal, Grayson) and artist Marcus To (Nightwing, New Avengers), Joyride is a rebellious love letter to the sci-fi genre, exploring what happens when nothing stands between a group of teens and their freedom amongst the stars.
BOOM! Studios, 9781608869510, 112pp.
Publication Date: September 27, 2016
About the Author
Jackson Lanzing & Collin Kelly are writers with a decade of experience in a variety of mediums, from features to animation to comic books. As comics creators, Lanzing and Kelly have written for DC Entertainment, BOOM! Studios, and IDW on titles including Batman & Robin Eternal, Grayson, and Hacktivist. This year, they released their first creator-owned comic at BOOM! Studios, the critically-acclaimed ongoing teenage space adventure Joyride.

Marcus To is a Canadian artist and illustrator whose credits include Cyborg 009, Red Robin, Huntress, Soulfire and The Flash. Born in Red Deer, Alberta, Canada, he has been a part of the American comic book industry since 2004. To lives in Toronto, Ontario and is a member of the Royal Academy of Illustration and Design. You can follow his adventures at MarcusTo.com.