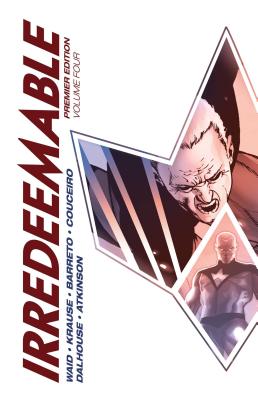 Irredeemable Premier, Volume 4 (Hardcover)
Boom! Studios, 9781608869787, 208pp.
Publication Date: July 4, 2017
* Individual store prices may vary.
Description
When the world's greatest hero becomes its most feared villain--how does the world survive on the brink of destruction? The Plutonian is back on Earth, and he's brought the universe's most dangerous psychotic criminals with him to wreak havoc on the fragile planet Meanwhile, Survivor's new Paradigm is caught off-guard, leaving the self-proclaimed "savior of society" without a leg to stand on. When countries around the world unite for one last desperate stand, who will come out on top--and what of Earth will remain when the dust settles? The next epic instalment of the landmark superhero title is here New York Times bestselling author, Mark Waid (Kingdom Come) joins forces with Peter Krause (Insufferable), Diego Baretto (Escape from New York), and more in this definitive collection of the Eisner Award-nominated series.
or
Not Currently Available for Direct Purchase