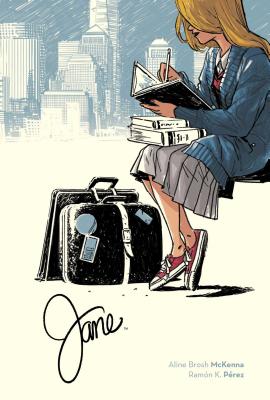 Jane
Hardcover

* Individual store prices may vary.
Description
A reimagining of Charlotte Brontë's classic novel Jane Eyre set in present day, written by acclaimed screenwriter Aline Brosh McKenna and Eisner Award-winning illustrator Ramón K. Pérez.

Growing up in a broken home in a small fishing town, Jane dreamed of escaping to art school and following the allure of New York City. When that dream becomes a reality however, it's not long before she feels out of place by the size of the city and the talent of her peers. She soon discovers her place as she begins to nanny a young girl named Adele, but that is upended when she falls for the girl's father, Rochester, a sardonic man of power, wealth, and unexpected charm. Jane learns that in the world of New York's elite, secrets are the greatest extravagance and she'll have to decide if she should trust the man she loves or do what ever it takes to protect Adele from the consequences of his deception.

Award-winning screenwriter Aline Brosh McKenna (The Devil Wears Prada, Crazy Ex-Girlfriend) makes her graphic novel debut with Eisner Award-winning illustrator Ramón K. Pérez (Jim Henson's Tale of Sand) in this powerful reimaging of Charlotte Brontë's classic novel Jane Eyre in present day Manhattan, where luxury masks dark secrets.
Archaia, 9781608869817, 224pp.
Publication Date: September 19, 2017
About the Author
Aline Brosh McKenna is an American screenwriter and producer, known for her work on The Devil Wears Prada and, most recently, the television series Crazy Ex-Girlfriend.

A child of the 1970s, Ramón K. Pérez was born early to immigrant parents in a small suburban town of southern Ontario, Canada. A visit to a drive-in double feature of Buck Rogers and Battlestar Galactica at an early age sparked his imagination and set the stage for his future career.