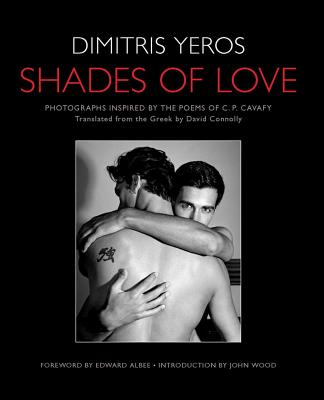 Shades of Love (Hardcover)
Photographs Inspired by the Poems of C. P. Cavafy
Insight Editions, 9781608870134, 168pp.
Publication Date: January 1, 2011
* Individual store prices may vary.
Description
From renowned painter and photographer Dimitris Yeros comes a collection of photographs inspired by the classic poems of one of Greece's greatest writers: Constantine P. Cavafy. Yeros has produced nearly seventy photographic illustrations using a mixture of models and fellow members of the artistic community such as Gore Vidal, Clive Barker, and Jeff Koons as his subjects. These striking images bring out every nuance of Cavafy's writing—with romance, intrigue, humor, despair, and eroticism each playing a part. In addition to its visual richness, the book presents new English poetic translations of Cavafy by David Connolly (Eroticon, Journal of an Unseen April) which are faithful to the original Greek works while bringing them to life for a new group of readers. Stunning portraiture and erotic photography paired with new English translations of the poetry of C. P. Cavafy—called the greatest modern Mediterranean poet. Literary, artistic, celebrity and gay interest.
About the Author
John Wood is an award-winning poet and photography critic who has written and edited over thirty books. In 2005, he co-curated the Smithsonian Institution/National Museum of American Art exhibition "Secrets of the Dark Chamber: The Art of the American Daguerreotype.". His latest book of poetry, Endurance and Suffering, won the 2009 Deutscher Fotobuchpreis Gold Medal.

Constantine P. Cavafy, also known as Konstantin or Konstantinos Petrou Kavafis, or Kavaphes (April 29, 1863 – April 29, 1933) was a renowned Greek poet who lived in Alexandria and worked as a journalist and civil servant. In his poetry he examined critically some aspects of Christianity, patriotism, and homosexuality, though he was not always comfortable with his role as a nonconformist. He published 154 poems; dozens more remained incomplete or in sketch form. Cavafy was instrumental in the revival and recognition of Greek poetry both at home and abroad. His poems are, typically, concise but intimate evocations of real or literary figures and milieu that have played roles in Greek culture. Uncertainty about the future, sensual pleasures, the moral character and psychology of individuals, homosexuality, and a fatalistic existential nostalgia are some of the defining themes.

Edward Albee is one of the greatest living American dramatists, best known for his works Who's Afraid of Virginia Woolf?, The Zoo Story, The Sandbox, and The American Dream. His plays have been performed on stages around the globe. He has received many awards, including three Pulitzer Prizes for drama and a Special Tony Award for Lifetime Achievement (2005).
or
Not Currently Available for Direct Purchase