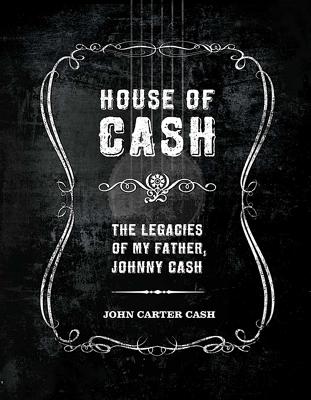 House of Cash: The Legacies of My Father, Johnny Cash (Hardcover)
The Legacies of My Father, Johnny Cash
Insight Editions, 9781608870288, 158pp.
Publication Date: October 10, 2011
Description
House of Cash is the intimate story of the Man in Black as only his son and namesake John Carter Cash could tell. Full of never-before-published memorabilia from the Cash archive, including songs, photographs, and recipes, House of Cash is the tale of the House of Cash is an unprecedented look at the life and inspirations of the Man in Black, by none other than his namesake son, John Carter Cash. Gathering together previously unpublished photographs, lyrics, art, notes, and recollections from the Cash family archives, John Carter paints a portrait of his father's inner life, and the values he imparted to his son and family. A record of a deep and ongoing conversations between father and son about what matters in life, House of Cash explores Johnny Cash's quest to live deliberately as he worked to determine his values, share them with those close to him, and reaffirm them on a daily basis. Topics covered include the nature of creativity, the responsibilities that come with fatherhood and friendship, the need for humility and morality, the value of reading, and the obligation we all have to sympathize with the downtrodden. An intimate exploration of the personality and legacy of Johnny Cash, this is a unique portrait of a deeply spiritual, creative, and passionate soul whose music sprang from the way he lived. The House of Cash limited edition features an exclusive version of the book bound in an elegant mock black leather material. Housed in a cloth-wrapped clamshell case, the book is accompanied by a notebook that contains facsimile reproductions of handwritten song lists, lyrics, and liner notes Johnny Cash drafted while recording American IV: The Man Comes Around, the last album released during his lifetime. Also included are a specially pressed 180 gsm LP record and corresponding CD that feature twelve songs written and recorded by Cash at the House of Cash recording studio in Hendersonville, Tennessee, eight of which have never been released. Limited to 1,500 copies, each edition comes with a numbered certificate of authenticity signed by John Carter Cash.
About the Author
John Carter Cash is the only son of John R. Cash and June Carter Cash and has produced five Grammy Award-Winning albums. He owns and operates the Cash Cabin Studio and Cash Productions LLC and lives in Hendersonville, TN.
Advertisement