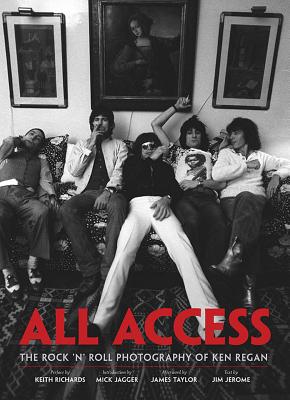 All Access (Hardcover)
The Rock 'n' Roll Photography of Ken Regan
Insight Editions, 9781608870332, 288pp.
Publication Date: November 8, 2011
* Individual store prices may vary.
Description
Since the 1960s, Ken Regan has captured the passion and energy of rock & roll's most influential performers. His early work with Bob Dylan an the Rolling Stones made him the photographer of choice for historic music events such as Live Aid and Amnesty International's Human Rights Now Worldwide benefit concerts, which gave Regan unique access to the personal side of the music industry's biggest stars. The definitive collection of Regan's best work and behind-the-scenes anecdotes from the past forty years covers an amazing Who's Who list of rock superstars: Joan Baez The Beatles Johnny Cash The Doors Bob Dylan The Eagles Janis Joplin Jerry Lee Lewis Madonna Roy Orbison The Rolling Stones Carly Simon Bruce Springsteen Sting James Taylor U2 The Who ...and more With a wealth of timeless images and revealing stories from his private photoshoots, Access delivers an intimate look at the artists, performances, and unforgettable moments that define popular music.
About the Author
Keith Richards is a guitarist, vocalist, songwriter, and cofounder of the Rolling Stones. He has released solo albums with his band, The X-Pensive Winos. He lives in Connecticut with his wife, Patti Hansen.