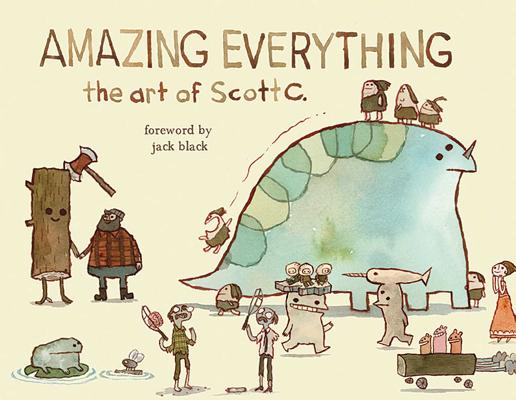 Amazing Everything
The Art of Scott C.
Hardcover

* Individual store prices may vary.
Description
With equal parts style, humor, and insight, Scott C. has delighted an international fanbase with his unique watercolor paintings, illustrations, and drawings. Amazing Everything: The Art of Scott C. is his first monograph, the best and most imaginative works of art in his emerging career. Admirers and collectors seek out Scott C.'s appearances at such diverse venues as Comic-Con in San Diego and Galerie Arludik in Paris to see his unusual depictions of pop-culture subjects and original creations: Victorian-era dinosaurs at high tea; lumberjacks and their sometimes-awkward relationship with trees; and ninjas lounging in their living room at home. These and other reflections of Scott C.'s artistic vision have kept him on the radar of such pop-culture trend outlets as Flavorpill and Hi-Fructose.
Praise For Amazing Everything: The Art of Scott C.…
Scott Campbell really is some kind of genius."

~ Mike Mignola, creator of Hellboy


The best thing about Scott's work is that it's so damn cute, clever, and funny! It's the perfect combination of whimsy and weird that make these adorable little scenes play out with such witty and awkward social commentary."

~ Tara McPherson, artist


I tried to pull together the essence of Scott C. once, to make a perfume called Essence of Scott C.' I mixed together extreme pleasantness, enthusiasm for beverages and other things, and a dash of somber, far-away looks. It smelled terrible. Amazing Everything does it much better."

~ Tim Schafer, president of Double Fine Productions


Amazing Everything should be put into a time capsule and shot into outer space for Martians to discover and understand American pop culture. Scott Campbell is our ambassador to geeky awesomeness."

~ Sanjay Patel, artist and supervising animator at Pixar Animation Studios


"I think Scott C is some sort of magical time traveler. He is seemingly able to instantly revisit those childhood days of effortlessly filling up sheets of paper with endless armies of little characters living out their little lives in their little worlds. To know Scott C's work is to know Scott C -- each carefree brushstroke is infused with joy, optimism, and the spirit of having a good time with your pals."

~ John Martz, DRAWN!


Art for me is about how it makes you feel. And Scott C's art just makes me friggin happy. Like, hurt your cheeks from smiling happy. AMAZING EVERYTHING is a big ol' book of pure, unfettered, goddamn merriment."

~ Scott Mosier, SModcast, Clerks, etc.


"Scott C. makes art so pleasant and engaging that you feel right at home in the scenes he creates, and you're really happy to be there too. He can paint these entire worlds he's put together in his mind, they're amazing and vibrant and full of life. For some people, building worlds in their head can seem like an insular exercise, but Scott may as well paint a great big welcome mat inviting you in."

~ Kate Beaton, Hark! A Vagrant
Insight Editions, 9781608870479, 128pp.
Publication Date: October 25, 2011
About the Author
Scott Campbell, sometimes known as Scott C., is the creator of the GREAT SHOWDOWNS online series and Double Fine Action Comics. He was art director and concept artist at Double Fine Productions on such games as Psychonauts, Brutal Legend, and Broken Age. His illustrated picture books include Zombie in Love, Zombie in Love 2 + 1, East Dragon West Dragon, XO, OX: A Love Story, Bob Dylan's If Dogs Run Free, and Hug Machine, in which he has written the words as well as created the pictures. Scott lives in New York City.
or
Not Currently Available for Direct Purchase