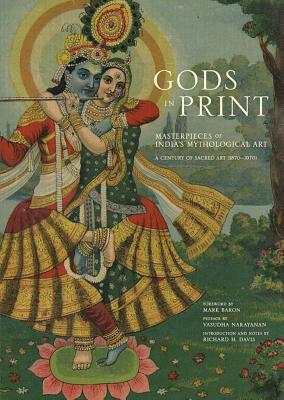 Gods in Print (Hardcover)
Masterpieces of India's Mythological Art
Mandala Publishing, 9781608871094, 240pp.
Publication Date: November 13, 2012
* Individual store prices may vary.
Description
Gods in Print is the first comprehensive collection of early hand-colored lithographs, multiple-block chromolithographs, and offset print images of India's world of gods and goddesses. India's love of gods in print began in the 1870s with the founding of the Calcutta Art Studio and the Chitrashala Press. In 1894, artists Ravi and Raja Varma set up the Ravi Varma Fine Art Lithographic Press outside Bombay. By the early 1900s, these presses had begun selling their prints throughout the subcontinent. Collectors Mark Baron and Elise Boisante have traveled to remote corners of India to document and preserve this fragile and beautiful popular art form. Their diligence in tracking down "God prints" and restoring them to their original brilliance has resulted in the extraordinary and comprehensive collection featured in this volume. For the first time, the full scope of India's sacred imagery in print can be viewed from its earliest days.
About the Author
Richard H. Davis is professor and chair of religion and Asian studies programs at Bard College, Annandale-on-Hudson, NY. Formerly he taught at Yale University. He is author of four books: Ritual in an Oscillating Universe: Worshiping Siva in Medieval India, Lives of Indian Images (winner of the 1999 A. K. Coomaraswamy Award from the Association for Asian Studies); Global India, circa 100 CE: South Asia in Early World History; and A Priest's Guide for the Great Festival. He has also edited two volumes, Images, Miracles, and Authority in Asian Religious Traditions and Picturing the Nation: Iconographies of Modern India. Currently he is writing a history of the Bhagavad Gita and starting work on a cultural history of early India. He maintains a collection of popular religious prints from India, the Davis God Poster Collection, at Bard College.