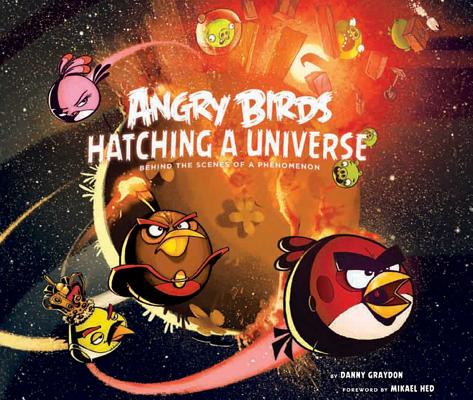 Angry Birds
Hatching a Universe
Hardcover

* Individual store prices may vary.
Description
In the space of just a few years, Angry Birds has gone from being a beloved mobile game to an entire universe of entertainment that spans an astonishing range of media. From animation to publishing and even an upcoming feature film, the Angry Birds experience is becoming even more diverse and dynamic. For the first time, Angry Birds: Hatching a Universe takes you inside the creative process that has driven this boundless expansion and showcases the remarkable art being the Angry Birds phenomenon. Featuring interviews with the key players at Rovio - the Finnish company behind the game - Angry Birds: Hatching a Universe tells the make-or-break story of its initial success and the continued innovation that has led to unforgettable collaborations with institutions such as NASA, and the creation of ground-breaking games like Angry Birds Space. Filled with never-before-seen sketches, concept art, and other visual treasures, along with in-depth insights into the creation of each aspect of the Angry Birds universe, this book is a revelatory look at the genesis of a true multimedia sensation.
Insight Editions, 9781608872114, 162pp.
Publication Date: June 4, 2013
About the Author
Danny Graydon is a freelance journalist specializing in film and graphic novels. He has written for such media outlets as Empire, Variety, and the BBC, and lives in the United Kingdom.

Mikael Hed has been CEO of Rovio Entertainment Ltd., creator of global phenomenon Angry Birds, since 2009. A graduate of Tulane University's business school, Mikael is a committed entrepreneur who owned a Finnish book publishing company prior to working at Rovio. He has transformed Rovio from a game studio and development partner to an integrated entertainment powerhouse, and he is committed to taking the company and Angry Birds to previously unseen heights. He lives in Espoo, Finland.