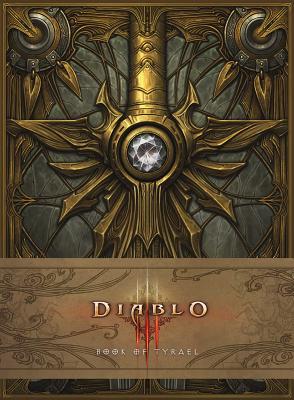 Diablo III (Hardcover)
Book of Tyrael
Insight Editions, 9781608872794, 164pp.
Publication Date: October 22, 2013
* Individual store prices may vary.
Description
From Blizzard Entertainment, the makers of critically acclaimed games such as Warcraft®, StarCraft®, and Diablo® comes this exciting companion edition to Diablo III: Book of Cain, giving fans an in-depth look into the mind of Tyrael, a key character of th

One of the most exciting and visceral action role-playing games in recent memory, Diablo® has become a worldwide gaming phenomenon. Diablo III: Book of Tyrael takes fans even further into the universe with a detailed and beautifully crafted artifact that focuses on the renowned champion Tyrael. As a former archangel of the High Heavens, he ranks among the most important and influential characters in the Diablo franchise. Here, in this illustrated and comprehensive tome, he reveals never-before-known secrets about the history of the world, the dark threats that yet face mankind, and his decision to join the ranks of humanity as a mortal. Featuring stunning original art throughout, this beautifully illustrated follow-up to Diablo III: Book of Cain will also feature letters from Leah and additional fragments of Cain's writings, all curated by Tyrael as he weaves together a complex and fascinating story for the members of the Horadrim. Also features a fully removable illustration of the Leoric family and other influential characters from Old Tristram; including Deckard Cain, Prince Albrecht, Archbishop Lazarus, King Leoric, Prince Aidan, Queen Asylla, Leah, and Adria. This reversible image would demonstrate their normal appearances on one side, along with a representation of their dark fates on the other.
About the Author
Known for blockbuster hits including World of Warcraft® and the Warcraft®, StarCraft®, and Diablo® franchises, Blizzard Entertainment, Inc. is a premier developer and publisher of entertainment software renowned for creating some of the industry's most critically acclaimed games. Blizzard Entertainment's track record includes thirteen #1-selling games and numerous Game of the Year awards.
Praise For Diablo III: Book of Tyrael…
phenomenal in visual appearance Almost every page in the book contains at least one piece of artwork and a piece of dedicated scripture, all of which is printed perfectly on the highest quality of paper."Inside the Box Reviews

While this insight into the backstory of Diablo III is very welcome, at least half the draw of the Book of Cain was in its gorgeous illustrations, the sort of images you only find in concept artwork, except more fully fleshed out and featuring a greater degree of detail. The Book of Tyrael continues this tradition, and is described as featuring stunning original art throughout.'"The Escapist
or
Not Currently Available for Direct Purchase