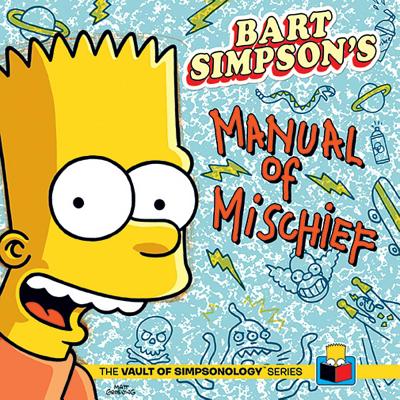 Bart Simpson's Manual of Mischief (The Vault of SimpsonologyTM) (Hardcover)
Insight Editions, 9781608873104, 64pp.
Publication Date: March 18, 2014
* Individual store prices may vary.
Description
Bart Simpson is truly the unrivaled master of mischief. Amateur pranksters around the world take their tips and learn their tricks from Bart, the sneakiest of sneaks. The nightmare of every sister and the destroyer of a calm composure for every grown-up, this clever kid knows how to push everyone's buttons and get away with it all. Now Bart shares his mischievous secrets with the world, from the contents of the perfect spy kit to the ideal methods of agonizing annoyance. Packed to the brim with inserts and special features, including removable "Sneaky Hall of Fame" cards and a booklet on the complete art of the prank phone call, Bart Simpson's Manual of Mischief includes everything you need to become a true technician of trouble. This is the second installment in the Vault of Simpsonology™ series and a follow-up to the wildly popular Homer Simpson's Little Book of Laziness. Copyright © 2013 by Matt Groening Productions, Inc. All rights reserved. The Simpsons™, created by Matt Groening, is the copyrighted and trademarked property of Twentieth Century Fox Film Corporation.
About the Author
Matt Groening is the creator of the longest-running comedy in television history…The Simpsons. It exploded into a cultural phenomenon in 1990 and has remained one of the most groundbreaking and innovative entertainment franchises, recognizable throughout the world. He followed it with his creation of the hit sci-fi series Futurama, currently one of the top-rated shows on Comedy Central. As a cartoonist, Groening began his "Life in Hell" weekly comic strip series in the 1980s, which he concluded in 2012. He lives in Southern California.
or
Not Currently Available for Direct Purchase