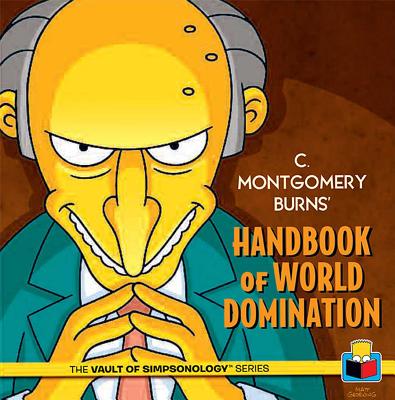 C. Montgomery Burns' Handbook of World Domination (The Vault of SimpsonologyTM)
Hardcover

* Individual store prices may vary.
Description
In the third volume of the Vault of SimpsonologyTM series, The Simpsons' maniacal Mr. Burns takes readers into his wicked world of wealth and power and shares his foolproof tips and tricks for taking over the world.

Does power corrupt? Absolutely! Does the hunger and lust for absolute power course through your icy blue veins? Do you feel the need to rule the world with an iron fist? To subjugate the masses with a whimsical snap of your fingers? To rise above the insolent and unworthy with your superior intelligence and unlimited supply of cold hard cash? Have you ever wondered if there was a simple step-by-step guide for following your impulses and instincts toward world domination? You've come to the right place. Here is the opportunity of a lifetime—the chance to turn your sociopathic needs into bloodthirsty greed! Now you can learn at the feet of the Master of Megalomania . . . Charles Montgomery Burns! Don't just stand there, you sniveling slugabed. Purchase this portable periodical posthaste and leave your conscience at the cash register!
Insight Editions, 9781608873203, 64pp.
Publication Date: September 9, 2014
About the Author
Matt Groening is the creator of the longest-running comedy in television history…The Simpsons. It exploded into a cultural phenomenon in 1990 and has remained one of the most groundbreaking and innovative entertainment franchises, recognizable throughout the world. He followed it with his creation of the hit sci-fi series Futurama, currently one of the top-rated shows on Comedy Central. As a cartoonist, Groening began his "Life in Hell" weekly comic strip series in the 1980s, which he concluded in 2012. He lives in Southern California.
or
Not Currently Available for Direct Purchase