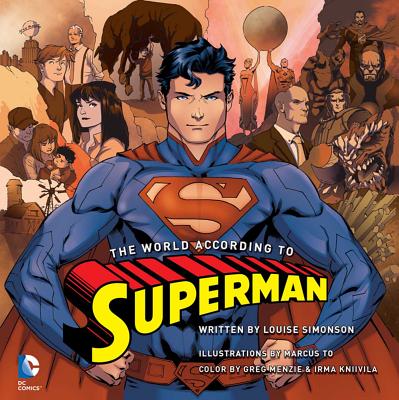 The World According to Superman (Hardcover)
Insight Comics, 9781608874910, 64pp.
Publication Date: March 15, 2016
* Individual store prices may vary.
Description
Discover the secrets of the Man of Steel in this engaging, immersive look into the world of Superman.

From Kansas farm boy to intergalactic guardian of peace and justice, the legendary Man of Steel has led an extraordinary existence that few humans can comprehend. In The World According to Superman, the Last Son of Krypton gives his personal perspective on a life dedicated to safeguarding the innocent. Including fascinating insights into his experiences as an alien attempting to blend in with humanity, his remarkable superpowers, his sometimes strained friendship with Batman, and much, much more, this book offers a rare look at the internal world of a Super Hero icon. Also included are an abundance of collectible removable items, including Clark Kent's press pass, newspaper clippings from the Daily Planet, memos from Perry White, an exclusive Superman poster, and more fun items sure to please fans everywhere. About the Insight Legends series Insight Legends is a collectible pop culture library featuring books that take an in-depth look at iconic characters and other elements from the worlds of comics, movies, television, and video games. Packed with amazing removable items that give the books an immersive, interactive feel, the series delivers unparalleled insight into the best-loved heroes and villains in modern fiction and the worlds they inhabit. Legal language: SUPERMAN and all related characters and elements are trademarks of and © DC Comics. (s14)
About the Author
Louise Simonson has written and edited award-winning graphic novel best sellers for many years, including Superman: Man of Steel, featuring The Death and Return of Superman. She has also written thirty books for kids and adults, many featuring comics characters. She is married to graphic novel artist Walter Simonson and lives in Suffern, New York.

Marcus To is a New York Times best-selling illustrator and storyteller who lives in Toronto, Canada. Throughout his career, Marcus has drawn virtually every DC superhero, having worked on Red Robin, Huntress, Batwing, Flash, and Wonder Woman. He is a proud member of the RAID Studio. More of his work can be found at www.marcusto.com.
Praise For The World According to Superman…
"In The World According to Superman, the Last Son of Krypton gives his personal perspective on a life dedicated to safeguarding the innocent. Including fascinating insights into his experiences as an alien attempting to blend in with humanity, his remarkable superpowers, his sometimes strained friendship with Wonder Woman, and much, much more, this book offers a rare look at the internal world of a Super Hero icon."

— Comic Book Resources

"The Man of Steel reveals secrets from his dual life as reporter and superhero in the recently released book The World According to Superman (Insight Editions). The story is narrated by Clark Kent/Superman (courtesy of comic book legend Louise Simonson) in this beautifully illustrated effort that spans over 60 full color pages. The man also known as Kal-El discusses his home planet of Krypton, his parents, Jonathan and Martha, his powers, and his legendary rogues gallery, including Lex Luthor, Darkseid and Doomsday."

— PopCultureGuy