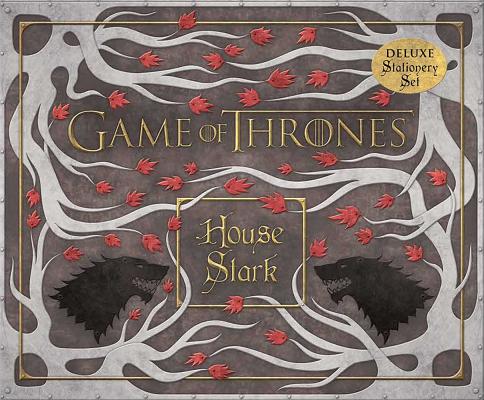 Game of Thrones (Hardcover)
House Stark Deluxe Stationery Set (Insights Deluxe Stationery Sets)
Insights, 9781608875528, 192pp.
Publication Date: September 1, 2015
* Individual store prices may vary.
Description
In the land of Westeros, a timely message dispatched via raven can make the difference between winning a battle and losing your kingdom. This deluxe stationery set, themed to stoic House Stark, provides all the items you will need to communicate with friends, bannermen, and faraway Maesters.* House Stark is just one of four available sets—the series also includes House Baratheon, House Lannister, and House Targaryen. Each set includes a 192-page ruled journal plus these exclusive items: Wax stamp featuring House sigil Two wax sticks Envelopes featuring House sigil Paperweight featuring House sigil Writing paper featuring House sigil Display box Taking fans even further into the world of HBO's Game of Thrones, this stationery set is a must-have for fans and anybody who needs to stay one step ahead of rival Houses! *Ravens not included.
About the Author
Insight Editions is a publisher focused on creating superlative illustrated books on photography, music, and popular culture. Lavishly produced and visually stimulating, every volume from Insight is dedicated to the skillful interplay of word and image. The books produced are unique works that combine the highest quality print production values with the time-honored traditions of publishing and rich subject matter. Elegant and informative, books from Insight showcase the best of art and photography in exquisite presentations of the bookmaker's craft. They are based in San Rafael, CA.