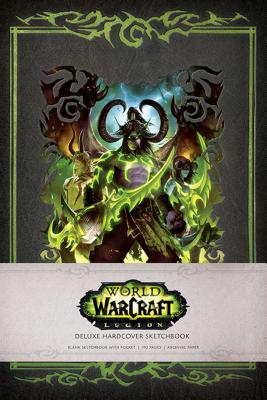 World of Warcraft (Hardcover)
Legion Hardcover Blank Sketchbook (Insights Deluxe Sketchbooks #1)
Insights, 9781608876877, 192pp.
Publication Date: May 17, 2016
* Individual store prices may vary.
Description
From Blizzard Entertainment, the gaming powerhouse behind Warcraft(R), Diablo(R), and Starcraft(R), a deluxe illustrated sketchbook inspired by the celebrated art of the classic role-playing game series, World of Warcraft. From Azeroth to the frozen kingdom of the Lich King and the savage jungles of war-torn Draenor, Blizzard Entertainment's World of Warcraft has transported millions of players into an epic fantasy universe. Full of humor, adventure and brutal conflict, the game is beloved by fans for its immersive gameplay and colorful, highly stylized visuals. This deluxe blank sketchbook spotlights some of the most impressive artwork created for World of Warcraft and invites fans to partake in the spirit of the series by creating their own works of art on over 170 blank pages. Copyright (c) 2015 Blizzard Entertainment, Inc. All rights reserved. Warcraft, World of Warcraft and Blizzard Entertainment are trademarks or registered trademarks of Blizzard Entertainment in the U.S. and/or other countries.
About the Author
Insight Editions is a publisher of illustrated books on photography, music, and popular culture. Elegant and informative, their books showcase the best of art, photography, and design in exquisite presentations of the bookmaker's craft. They are located in San Rafael, CA.