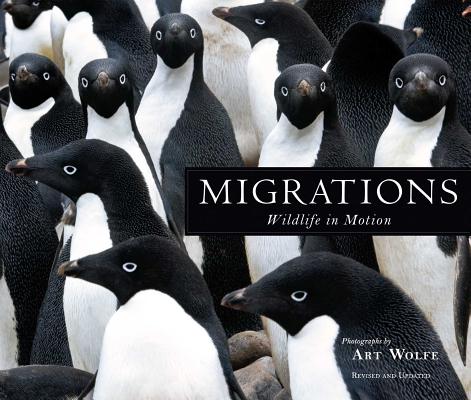 Migrations (Hardcover)
Wildlife in Motion
Earth Aware Editions, 9781608877140, 168pp.
Publication Date: April 5, 2016
* Individual store prices may vary.
Description
A powerful collection of expeditionary photography documenting migratory patterns of wildlife across the planet through the lens of Art Wolfe, one of the world's most celebrated wildlife photographers.

Inspired by the imaginative spatial designs of Dutch artist M.C. Escher, photographer Art Wolfe traveled the globe in search of similar patterns in nature. The result is a book of remarkable wildlife images that captures both the beauty and the poignancy of animals on the move. Migrations draws the reader into the energy, motion, and enduring spirit of life on this planet. The stunning images capture the delicate balance of our ecosystem, conveying the primordial stirrings that prompt a flock of snow geese to head south, monarch butterflies to bejewel a forest of trees, or a colony of Indian bats to snuggle in tight hibernation, while also serving as a telling reminder of life's fragility. It carries a message of both celebration and conservation. Kenya, Japan, South Georgia Island, Trinidad, the Canadian Arctic, and the Ozarks are among the locations that create the backdrop for Wolfe's dramatic artistry as he showcases "classic migrations," the beauty of their trek, the splendor of the patterns they create, and the cycles they are compelled to repeat.
About the Author
Over the course of his 40-year career, award-winning photographer Art Wolfe has worked on every continent and in hundreds of locations. His stunning images interpret and record the world's fast-disappearing natural treasures and are a lasting inspiration to those who seek to preserve them all. Wolfe's photographs are recognized throughout the world for their mastery of color, composition, and perspective, and his photographic mission is multifaceted — art, wildlife advocacy, and journalism all inform his work. He lives in Seattle.
Praise For Migrations: Wildlife in Motion…
"One of the most outstanding photos in the book features a herd of cape buffalo stampeding through Kenya's Amboseli National Park. As they kick up dust in their frenzied wake, it almost looks as though they're swimming through a river of clouds."

— Mother Nature Network


"Amid the hustle and bustle of daily life, it's sometimes easy to forget the beauty of the world around us. Art Wolfe is here to remind us. Throughout his decades-long career, the Seattle-based photographer and conservationist has captured some beautiful scenes of wildlife on the move in search of new homes, food sources and climates."

— The Huffington Post
or
Not Currently Available for Direct Purchase