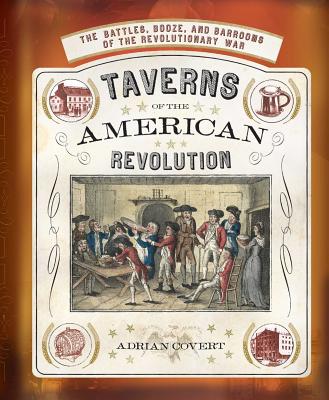 Taverns of the American Revolution (Hardcover)
Insight Editions, 9781608877850, 192pp.
Publication Date: June 28, 2016
* Individual store prices may vary.
Description
The first visual and narrative account of the American Revolution told through tales about the Colonial-era inns, taverns, and alcoholic beverages that shaped it, Taverns of the American Revolution is equal parts history, trivia, coffee-table book, and travel guide.

A Complete Guide to the Spirits of 1776

In 1737, Benjamin Franklin published "The Drinker's Dictionary," a compendium of more than two hundred expressions for drinking and drunkenness, such as "oil'd," "fuzl'd," and "half way to Concord." Nearly forty years later, the same barrooms that fostered these terms over bowls of rum punch helped sow the seeds of revolution.

Taverns of the American Revolution presents the boozing and schmoozing that went on in some of America's most historic watering holes, revealing the crucial role these public houses played as meeting places for George Washington, Thomas Jefferson, Benjamin Franklin, and their fellow Founding Fathers in the struggle for independence. More than a retelling of the Revolutionary War, this unique volume takes readers on a tour of more than twenty surviving colonial taverns; features period artwork, maps, and cocktail recipes; and is filled with trivia and anecdotes about the drinking habits of colonial Americans.

From history buffs and those interested in colonial architecture and art to tavern goers, beer aficionados, trivia lovers, and those keen on hitting a few historic pubs on their road trip through the original thirteen colonies, this one-of-a-kind compendium is the ultimate guide to the taverns that helped spark a revolution.

Includes:

-Commentary on more than twenty surviving colonial taverns Period artwork, maps, and documents

-A detailed time line of the events leading up to, during, and immediately after the American Revolution

-Six colonial cocktail recipes

-A comprehensive index of more than one hundred fifty surviving colonial taverns

-An abundance of little-known facts and anecdotes that will have you owning your next pub quiz trivia night
About the Author
Adrian Covert is a San Francisco-based author, artist, and expert on California water policy for the Bay Area Council, a nonprofit public organization. Covert studied political science at San Francisco State University and enjoys old bars and playing baseball for the Sunset Nobles. He lives in the Mission District with his wife, Rachel.
Praise For Taverns of the American Revolution…
"Of all the many pictures in Taverns, the interiors are most alluring—hardwood floors, colonial furnishings, inviting hearths, and especially those taprooms. There's a beautiful shot of the taproom at the Griswold Inn in Essex, Conn. But of the countless times I've been to "the Gris," I never knew until reading this book that one of the encased muskets held in its barrel a tightly scrolled letter, dating from 1776, from a father to his son."

— The Washington Free Beacon

"These taverns are still around. So why not embark on a journey that combines a bit of history and a bit of booze? That was Adrian Covert's wonderful idea when he wrote Taverns of the American Revolution."

— The Weekly Standard

"Taverns of the American Revolution is a great gift for history buffs as well as those interested in the drinks and conversations that occurred in these watering holes, some of which were frequented by George Washington, Thomas Jefferson and Benjamin Franklin."

— New Jersey Monthly
or
Not Currently Available for Direct Purchase