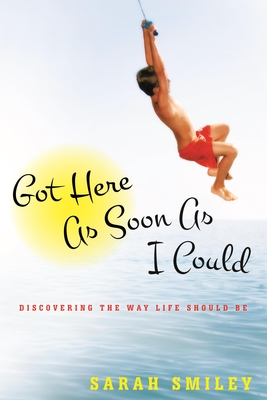 Got Here as Soon as I Could (Hardcover)
Discovering the Way Life Should Be
Down East Books, 9781608935765, 328pp.
Publication Date: April 1, 2016
* Individual store prices may vary.
Description
I m not from Maine but I got here as soon as I could. Six years ago, a family from Florida fell in love with the way life should be, and although they ve never seen a moose, the Smileys intend to stay. Because say what you will about the cold winters and the messy mud season, there is no other place to raise a kid than in the great state of Maine. Got Here As Soon As I Could is a collection of syndicated columnist Sarah Smiley's most-loved columns about raising a family in Maine. In these 100 essays, readers will laugh, cry and nod their head yes as they remember a time when all of America was as simple and beautiful as it still is today in Vacationland.
About the Author
Sarah Smiley is the author of a syndicated newspaper column published locally in the Brunswick Times-Record and Bangor Daily News, and in Washington, Florida, Colorado and Texas. Sarah has written three books: the memoirs Dinner with the Smileys, (Hyperion, 2013) Going Overboard, (Penguin/New American Library, 2005), and a collection of essays titled I'm Just Saying . . ., (Ballinger, 2008). She is a frequent contributor for Parade, Huffington Post and Military.com. Sarah has been featured in The New York Times Magazine; O, the Oprah Magazine; Parade (cover story); GoodHousekeeping; Newsweek; DownEast; Maine; and Military Spouse Magazine (cover story). Sarah also has appeared on the Today Show, Katie (Couric), Nightline, CNN's American Morning and Sunday Morning, CBS's The Early Show, Fox News Studio B, and MSNBC Live. Locally, Sarah is a frequent co-host and guest on WVOM, The Voice of Maine, and The Nite Show with Danny Cashman. Sarah has been featured on WCSH6's 207 and MPBN. In 2014, Smiley was awarded the American Legion Auxiliary's prestigious "Public Spirit Award." She lives with her husband and kids in Bangor, Maine.