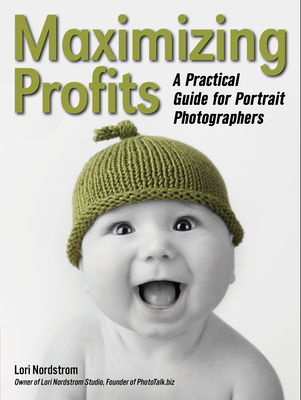 Maximizing Profits (Paperback)
A Practical Guide for Portrait Photographers
Amherst Media, 9781608958511, 128pp.
Publication Date: April 14, 2015
* Individual store prices may vary.
Description
If you've got great camera skills and want to take the plunge and make your passion a career, you'll need to build a solid business foundation from which your passion and creativity can take flight. If you're like most artists, the business side of things seems a bit dry--and it may be something you dread. Fortunately, Lori Nordstrom takes the sting out of your studies and gives you all of the skills you need to plan your business, attract the attention of the clientele you want to serve, recruit a staff that supports your creative and financial objectives, create a top-notch customer-service experience, and show and sell your unique images to happy clients, time after time. Lori Nordstrom is an award-winning photographer and an active lecturer and blogger who inspires other photographers to make smart business decisions that positively impact the children-and-family portrait industry as a whole. In this book, she's compiled her hard-won tips, sharing clear, simple ideas for developing your personal style; identifying your ideal client base, creating a referral system, constructing displays, getting media coverage, and hosting events. She'll also help you understand how to hire a staff, create a budget, schedule your time, manage your workflow, and establish a sense of value and a cost structure that allows for a nice profit. Because all of your pre-session efforts should lead to a successful photographic experience for your clients, special attention is given to cultivating a standout studio experience that allows clients to feel relaxed, happy, and yes, pampered. Nordstrom also helps readers work through some issues that are notoriously challenging for photographers--breaking free of pricing set points, selling their products, and overcoming client objections to close the sale. This book offers a fresh, exciting, and friendly approach to building a sustainable business that affords photographers the opportunity to confidently create--and make a great living.
About the Author
Lori Nordstrom {M.Photog.Cr., CPP, ABI} owns a boutique studio specializing in children and family portraits located in the picturesque town of Winterset, Iowa. Lori began her career photographing her own kids in her backyard over 15 years ago, and is now known not only for her simple and sweet portraits of children, but as a leader in the photography industry in the areas of business, marketing and sales. See more of Lori's work at nordstromphoto.com
or
Not Currently Available for Direct Purchase