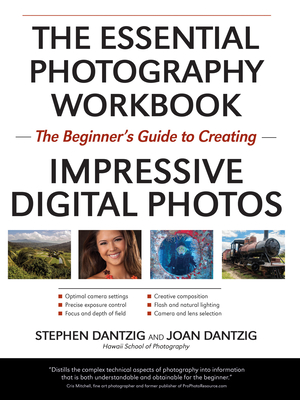 The Essential Photography Workbook (Paperback)
The Beginner's Guide to Creating Impressive Digital Photos
Amherst Media, 9781608958634, 128pp.
Publication Date: April 14, 2015
* Individual store prices may vary.
Description
Stephen and Joan Dantzig operate the Hawaii School of Photography and have been turning point-and-shoot photographers into photographic artists for more than five years. In this book, they put their wisdom to paper with a promise to help readers rise up and learn this powerful practice from the ground up.
Photography is more popular than ever. We are inundated with images by the traditional media and now, increasingly, in social media. Every day, countless amateurs who've enjoyed using cell-phone cameras or simple, automatic-everything-point-and-shoot cameras decide to take the plunge and buy an SLR--a camera with all the bells and whistles that allows complete control over the way an image is recorded. Too often, those cameras collect dust because the users lack the necessary guidance.
This book is designed to show readers the ropes of SLR photography. Beginning with a look at the components of SLRs and moving into the modes/options than come standard on today's cameras, readers will learn to understand and use their cameras. With the basics under their belts, they'll move on to understanding the basic tenets of photography--specifically, the art of capturing an accurate exposure. From there, readers will learn how to use their exposure controls to depict a subject or scene creatively--from determining how much of the scene should be in focus or obscured by a beautiful bokeh (desirable blur) for effect, to deciding whether to freeze motion or elicit the feeling of movement. Readers will learn what constitutes the "right" light for photography, and how to use highlight and shadow to create drama and add interest and a sense of dimension in their images. Information is presented on composition (the artful arrangement of the elements of the scene within the confines of the frame in a way that excites the viewer), adding artificial light, and much more. All concepts are reinforced by the introduction of 43 skill-building and concept-reinforcing self-assignments designed to heighten understanding and boost confidence.
With lushly illustrated pages and concise, jargon-free, easy-access lessons, this book is an important resource for all beginning photographers.
About the Author
Stephen Dantzig: Stephen Dantzig is a nationally renowned lighting expert and the owner of Hawaii School of Photography. He is the author of Lighting Techniques for Fashion and Glamour Photography for Film and Digital Photographers, Mastering Lighting Techniques for Outdoor and Location Digital Portrait Photography, Softbox Lighting Techniques for Professional Photographers and Portrait Lighting for Digital Photography: The Basics and Beyond (Amherst Media). He has written more than one hundred articles and lessons on photographic lighting and ethics for some of the top magazines and websites in the business including RANGEFINDER Magazine, Professional Photographer Magazine, PC Photo Magazine, Studio Photography and Design, ProPhoto West, ShootSmarter.com and ProPhotoResource.com. His work has appeared on more than 22 magazine covers including local, regional and national markets. Stephen holds a Doctor of Psychology degree from the Rutgers University Graduate School of Applied and Professional Psychology. He works, teaches and resides with his wife in Honolulu, HI. Joan Dantzig: Joan Dantzig is a recent immigrant from the Philippines who brought her passion for photography with her. Her natural and unique eye for composition sets her work apart from her peers.