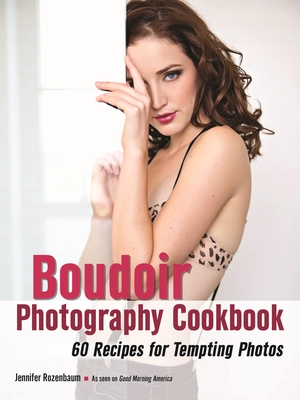 The Boudoir Photography Cookbook (Paperback)
60 Recipes for Tempting Photos
Amherst Media, 9781608958795, 128pp.
Publication Date: July 7, 2015
* Individual store prices may vary.
Description
Jen Rozenbaum presents sixty essential skills that will help you to fine-turn every aspect of your boudoir shoot. She begins with a look into what qualifies as boudoir, identifies the subgenres of boudoir portraiture, and then launches into a targeted look at various posing strategies that will really amp up your subject's gorgeous curves for a sexy, sultry look. You'll also find a host of image concepts that you might want to incorporate into your repertoire, plus lighting sources and setups Jen favors for creating sizzling shots, and even tips for selecting a wardrobe that downplays perceived flaws and celebrates your subject's assets. Of course, Rozenbaum doesn't stop there. There are even sections on changing up lenses for portrait variety, working with a Lensbaby (a specialty lens that offers a 'sweet spot' of focus), and pulling out all of the stops with today's must-have light source: the Westcott Ice Light.
About the Author
Jen Rozenbaum embraces her femininity while allowing women to embrace their own. By daring her clients to shed their clothes, they begin to shed their inhibitions. In just six years, Jen has found a burgeoning audience in the intimate photography market. She proves that you can own your world if you live fearlessly, think audaciously and act spontaneously and has been featured on Good Morning America and in Entrepreneur Magazine and Aol. In the five years that Jen has been working professionally she has photographed thousands boudoir sessions with all types of women, allowing her to learn quickly how women's bodies work in front of the camera. That along with her education in fine art and figure drawing has helped her develop her own fool proof posing style, which helps new and seasoned photographers alike.
or
Not Currently Available for Direct Purchase