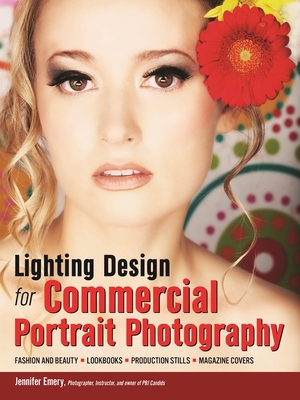 Lighting Design for Commercial Portrait Photography (Paperback)
Fashion and Beauty, Lookbooks, Production Stills, Magazine Covers
Amherst Media, 9781608958955, 128pp.
Publication Date: June 9, 2015
* Individual store prices may vary.
Description
Effective commercial portraiture is heavily reliant on clean, crisp lighting looks that emphasize color, contrast, contours, and texture to allow viewers of magazines, newspapers, television, and movies to view a product or model/celebrity in a precise and predetermined way that suits the overall marketing campaign and leaves viewers with a specific, conscripted feeling about the product /person being shown. Crafting this type of polished lighting requires absolute proficiency with the tools of the trade, from flash, to beauty lights, to softboxes, to gobos and gels. It also requires thinking outside the box to create lighting with a "hook"--a certain quality that binds the look to the brand identity and can be carried out repeatedly across several advertising campaigns. Whether you are producing album cover art, lingerie shoots for an intimates catalog, or production stills for television shows or movies, Jennifer Emery will give you the technical and creative skill set you need to thrive artistically, work efficiently with models and set designers, and win repeat clients. Beginning with essential strategies for finding and casting talent, paying/trading with that talent, and creating an open dialogue throughout the directorial stages, Jennifer builds a solid foundation from which the artistic concept can spring forth. In the following chapters, she presents text and images that will instruct readers on creating numerous looks/projects, including: (1) Beauty lighting for beauty/cosmetics ads (2) High-Key Lighting for a magazine cover shoot, (3) Lighting groups for a movie/TV poster, (4) Sculpting light for boudoir/lingerie/swimsuit/nude photograph, (5) Working with speedlights/flash for editorial fashion and lifestyle shoots, and (6) Lighting exterior locations for high fashion and fashion editorial work. Armed with these skills, photographers will be able to approach any commercial lighting job with a repertoire of skills, an ability to overcome challenges, and the confidence needed to nail the shot every time.
About the Author
Jennifer specializes in lifestyle and commercial photography with a cinematic fashion feel. Professionally she started in photography part-time while pursuing an acting career. Currently Jennifer shoots full time on location and in studio, and occasionally she can be seen in a bit part on TV or Film. Jennifer is also an Adjunct Photography Instructor at Santa Monica Community College. She has been featured as a photographer on various Television programs such as: "Battle of the Wedding Planners" TLC Network. Jennifer's 20 year background in Photography includes: Commercial, Editorial, Fashion, Product, Campaign photography, Headshots, Models, Weddings, Portraits, Celebrity, Corporate Events, Travel and Location Photography, Photojournalism, Marathon and Sports photography, promotional, catalogue, Productions Photography for (commercials, TV & Film), Live Shows, and Special Events.