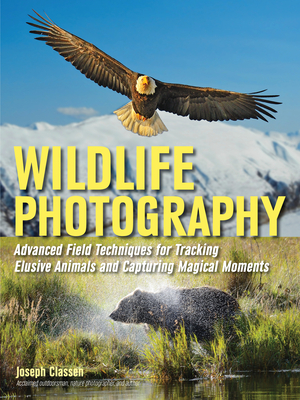 Wildlife Photography (Paperback)
Advanced Field Techniques for Tracking Elusive Animals and Capturing Magical Moments
Amherst Media, 9781608959136, 128pp.
Publication Date: September 15, 2015
* Individual store prices may vary.
Description
Wildlife photography is an adventure--and as any great adventure story unfolds, odds are, there are bound to be some great risks involved. Whether it's the risk or the reward--or both--that motivates wildlife shooters, there is one pervasive truth: Preparation is key to success--and survival. In this book, Joe Classen approaches the art of wildlife photography from a hunter's perspective. He teaches readers how to select and use the appropriate specialized photographic gear required for the rigors of wildlife photography--as you'd expect. However, he also teaches you how to mentally and physically prepare for an outing in which your wits must be as keen as your eye. Classen provides detailed insights into planning and packing for a wilderness adventure. Readers will learn how to securely pack their delicate photographic gear for a rugged, outdoor environment but will also learn how to choose and tote the best clothing for the site, accessories to ensure your personal safety, and even basic cooking and drinking requirements for days spent shooting in remote areas. Once you've scouted your location, you'll learn how to track and lure your photographic subject using time-honored practices (calls--from lust to hunger, to anger and sloth; decoys; attractor scents; working invisibly, etc.) while "shooting" (your camera ) from a blind or stand--or, conversely, by using a more aggressive stalk-and-ambush approach. You'll learn how to read animal behaviors--from eating to mating--and predict how, when, and where your best photographic opportunities will arise--and when your safety should be a greater concern than your shot. With this soup-to-nuts approach, readers will find, in this book, a compendium of information about wild-animal behavior, wilderness survival and safety, the art and science of photographic capture, and even storing and processing your prized digital files once you return home from your adventure. Armed with Classen's suggestions and strategies, you'll maximize your photo opportunities and increase the odds that your wildlife images are the mount-and-frame trophies for which you risked life and limb.
About the Author
Joseph Classen is originally from St. Charles, Missouri. Located along the Missouri river, and nearby the mighty Mississippi, this historic town was founded in 1769 by Louis Blanchette, and was known as a launching pad for early explorers, traders, and immigrants who were heading west. St. Charles was a thriving trading community back in the day, it was the site of the famous Lewis and Clark Rendezvous, and it was also the familiar stomping grounds of individuals such as Daniel Boone. It was along those muddy rivers, immersed in that adventurous, pioneer spirit that his undying love of the outdoors was born. Throughout his entire life, from his earliest memories as a child, up until this very day, a passionate love of the natural world has possessed his soul. There has never been a time that his heart didn't begin to beat faster at the very thought of heading outdoors for an adventure of one kind or another, no matter how big or small. His infatuation with Mother Nature has produced an unquenchable thirst which has taken him to some of the wildest, most unforgiving, and remote locations in the United States and Canada. In fact, that "call of the wild" certainly played a part in bringing him to the place he currently calls home: Kodiak Island, Alaska, one of the most beautiful and rugged places in the world. Over the last decade or so, he's shared his experiences and love of nature through various forms of media. He's written numerous books and articles on a variety of nature related topics, and was the host of an outdoors themed radio show for several years, been a member of the Professional Outdoor Media Association, and also work as an Alaskan photography, fishing, and wilderness guide. Please visit his website Wild Revelation for more information. (wildrevelation.com) His photography work has won awards, been published in numerous magazines, featured by conservation organizations and travel bureaus, and continues to gain worldwide exposure.
or
Not Currently Available for Direct Purchase