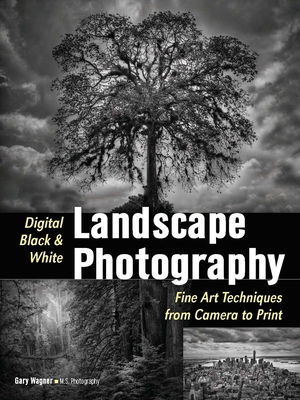 Digital Black & White Landscape Photography (Paperback)
Fine Art Techniques from Camera to Print
Amherst Media, 9781608959211, 128pp.
Publication Date: August 11, 2015
* Individual store prices may vary.
Description
Landscape photography is a popular photographic genre--and for good reason. The great outdoors is an ever-ready subject. It is variable, as well; it is affected by changing light, decomposition, weather, human interaction, and myriad other factors. Its features range from natural to manmade elements--and many landscapes are comprised of both. Photographers who point their camera's lens at a scene do so in an effort to communicate their feelings about the landscape. Rather than simply document the scene, they seek to capture the spirit of place--perhaps to tell a story or depict a mood. They aim to share with viewers the ways in which the scene speaks to them. Accomplishing these goals may seem simple at the outset, but the task is rife with challenges. In this book, Gary Wagner shows readers how to create powerful, evocative black & white landscape photographs filled with beautiful light, a full range of tones, and exquisite detail. Beginning with a look at the gear you'll need to get the best-possible images, Wagner covers cameras, lens types, tripods, and filters. He then discusses the postproduction processes he uses to enhance his images, producing breathtaking photographic records of natural and man-altered locales.
Following a run-through of the basic tenets of landscape photography, Wagner presents 60 of his favorite images for review. Readers will find images in six categories: (1) Lakes and Streams, (2) Trees and Rocks, (3) Coastal Seascapes, (4) Winter, and (5) Man-Altered Landscapes. This presentation model allows readers to focus on the aspects of landscape photography that most appeal to them or challenge them most. With each image presented, readers will learn the strategies that went into conceptualizing and creating the shot--from exposure, to composition, to postproduction, and more.
With information on every aspect of creating striking, moving landscape images--from choosing gear, to studying light, to calculating ideal exposures, to composing images, to retouching/manipulating the images for breathtaking results, to setting up your workflow to ensure that the printed/output image meets the strictest criteria, this book will prove indispensable to photographers new to landscape photography or those seeking to take their image creation to a whole new level.
About the Author
Gary Wagner's love of the photographic image and craft began at the age of sixteen when he became the photographer for his high school newspaper in Kokomo, Indiana. He continued his education at Indiana University in Bloomington, eventually moving to Santa Barbara, California, to attend Brooks Institute of Photography. While at Brooks, Gary increased his artistic and theoretical knowledge of photography and the historical significance of the printed image. Earning a Master's Degree in Photography from Brooks Institute, with the publication of his work on historical carbon printing, gave Gary a continued appreciation and passion for his artistic craft.Gary's professional career spans more than three decades and includes, fine art, portrait, and commercial photography. His knowledge, expertise, and enthusiasm for the photographic image enabled him to successfully teach theory and technique at the college level and seminars in Europe on the English country landscape.Fluent with all film formats, from 35mm to 8x10, Gary has embraced the digital image and the ever-changing environment of photography in the current technological age. Exploring photography using digital imagery offers a myriad of possibilities. Refining technique with the interplay of artistic expression fascinates and challenges Gary to continue his exploration of the photographic image and his study of the land and its natural elements and beauty.For the past 25 years Gary has made his home in the beautiful Sierra foothills of Northern California.