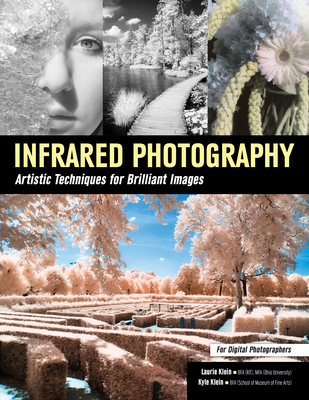 Infrared Photography (Paperback)
Artistic Techniques for Digital Photographers
Amherst Media, 9781608959259, 128pp.
Publication Date: January 12, 2016
* Individual store prices may vary.
Description
With the introduction of digital photography, unprecedented numbers of people are flocking to the art form, trying their hand at creating effective photographs of people, landscapes, still lifes, and other subjects. As the ranks of photographers swell, it becomes more and more difficult to achieve a standout body of work--something that sets your work apart from the barrage of images we are all inundated with on a daily basis. As Laurie and Kyle Klein prove in their new book, infrared capture may be that magic bullet. Infrared photographs have a mystical feel. Before the dawn of digital capture, infrared light waves, which are invisible to the naked eye, could only be captured using specialized films that required precise handling and a level of technical proficiency that most photographers lacked. Today, infrared films are largely unavailable; digital infrared is the wave of the future, and most photographers have a retired digital camera (whether an older-model DSLR or an old point & shoot camera) on hand that they can permanently modify for digital-only capture. So, you're ready to jump in and try your hand at producing wildly different images. Where do you start? In this book, Laurie and Kyle Klein present a brief history of infrared, then move on to discuss all of the nitty-gritty technical information you'll need to understand how those invisible wavelengths will be recorded in your camera and the steps you'll need to take to ensure the best-possible resulting photographs. The authors provide a plethora of sample images that show you how various materials--from skin, hair, and eyes to environmental subjects like the sky, trees, grasses, and clouds--will appear in your images. They also teach you how to previsualize the final image: You will learn to predict the way that the colors and tones you perceive with your naked eyes will be rendered in-camera. You will also learn how to effectively frame your subject(s) and scenes to draw the viewer's gaze into and through the frame in a predictable manner, and keep him or her visually engaged. With the basic theories of infrared capture and image design deftly handled, the authors discuss further artistic applications. You'll learn how to add selective color to your black & white infrared images and how to create color infrared images that take infrared capture to a whole new level. Finally, the educators detail basic image-editing strategies that will allow you to finesse the tones and contrast in your images. Armed with the scientific insights and artistic applications in this book, you will be able to easily branch into a new genre of creative capture--whether you're interested in pushing your creative abilities to new levels for self-satisfaction or are looking to offer your studio's clientele a new product line.
About the Author
Laurie Klein is an award-winning fine art, wedding and portrait photographer. She is the of Photographing the Female Form with Digital Infrared and Hand Coloring Black and White Photography. Her images have appeared in numerous national magazines. Laurie has a MFA in photography from Ohio University and a BFA from RIT. A gifted photographic educator for over 30 years, Laurie teaches classes and workshops throughout the United States as well as internationally. Laurie Klein is recognized worldwide for photographing almost exclusively in the arresting infrared spectrum. Her work embodies a soft, passionate style that most often depicts the feminine experience, relationships and landscapes. She began photographing with infrared film as a bio-medical photographer, using the medium for diagnostic and research purposes. After studying with Ansel Adams in the mid-1970s, she realized there were other applications for IR and began her journey into fine art photography. Kyle Klein began assisting wedding photographers during his freshman year of high school, and by the age of 19, he was photographing 10 weddings a year. A graduate of the School of the Museum of Fine Arts in Boston and Tufts University with a BFA in Photographic Processes, Kyle became the Production Manager of a commercial and biomedical photographic studio on Beacon Hill in Boston. In 2013, Kyle opened his photography business and began photographing events, local and destination weddings, professional and social portraits, wildlife and landscapes. He is a consultant for studio owners, and teaches photography, workflow and Photoshop skills. Kyle spent two months in the spring of 2014 on a photographic expedition in Africa, capturing wildlife and endangered species with the help of a successfully funded Kickstarter campaign called 'The Warm Heart of Africa."
or
Not Currently Available for Direct Purchase