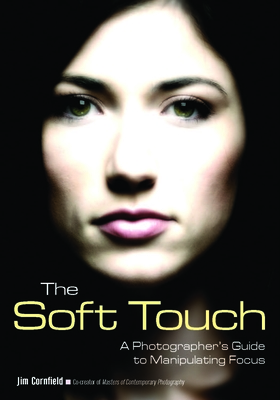 The Soft Touch (Paperback)
A Photographer's Guide to Manipulating Focus
Amherst Media, 9781608959495, 128pp.
Publication Date: November 10, 2015
* Individual store prices may vary.
Description
Image sharpness is one of photography's yin/yang propositions. Soft focus can impair a photograph, but just as readily enhance it. Blurs and soft zones function like shadows and highlights; they minimize certain details in the image and redirect a viewer's attention within the frame. "Like the rest stops in a piece of music," writes author Jim Cornfield, "creatively manipulated softness can empower a photograph's impact."
There are countless ways to selectively modulate sharpness in an image. This veteran commercial photographer reveals his personal choices for using soft focus. "It's not just eye candy," he writes, "it can also add great depth and meaning to an image."
Readers learn the background of soft-focus photography, historical and technical-- the use of spherical aberration, circles of confusion, and bokeh. More importantly, the book reveals a wealth of image manipulation techniques for creating amazing, evocative effects both in camera and in the digital darkroom. Included; a bonus chapter featuring the work of three noted contemporary fine art shooters who use soft-focus and diffusion with stunning, gallery quality results. It's great inspiration for readers to augment their photographic repertoires, their artistic personas and their client lists.

About the Author
Jim Cornfield is a veteran commercial photographer, freelance journalist, and travel writer, based in Malibu Canyon, CA. Over a career that spans 35 years, Cornfield has been Feature Editor of Petersen's PhotoGraphic magazine, Director of Photography for East/West Network, and was co-creator of the acclaimed book series, Masters of Contemporary Photography. His photographs appear in advertisements and corporate publications worldwide, for a clientele that includes NBC, CBS, Disney, Paramount Pictures, Hewlett-Packard, Dole, Occidental Petroleum, and a gamut of periodicals from Reader's Digest to Scientific American. As a writer, his adventure and eco-travel articles, covering destinations from Israel, India, Costa Rica, Spain and Italy to Honduras, the Cayman Islands and Portugal, are widely published in magazines, including Scientific American, Continental Airlines magazine, and NY-based Rangefinder, for which Cornfield is a columnist and regular contributor of photo-related feature stories. Cornfield is the author of three books, and an experienced film and video director, having created many television commercials for his broadcasting and advertising clients. He was raised Los Angeles, graduated from UCLA, and served as an officer in the US Air Force.