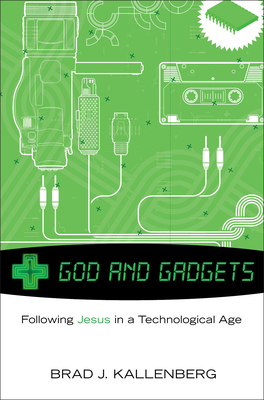 God and Gadgets
Following Jesus in a Technological World
Paperback

* Individual store prices may vary.
Other Editions of This Title:
Hardcover (1/1/2011)
Description
Description: Technologies are deeply embedded in the modern West. What would our lives be like without asphalt, glass, gasoline, electricity, window screens, or indoor plumbing? We naturally praise technology when it is useful and bemoan it when it is not. But there is much more to technology than the usefulness of this or that artifact. Unfortunately, we tend not to consider the inherently social and moral character of technology. As a result, we are prone to overlook the effects of technology on our spiritual lives. This book investigates the role technology plays in helping and hampering our Christian practice and witness. Endorsements: ""Only Brad Kallenberg could have written this book. Drawing on an engineering background, schooled by Wittgenstein's philosophical work, and shaped by Christian theological convictions, he enables us to see how technology can exercise power over us to our detriment without asking us to abandon technology in service to human life."" --Stanley Hauerwas, Duke Divinity School ""Kallenberg does a masterful job of helping his reader see the blind spots of modern, technological culture. His insights are provocative, instructive, and often redemptive. You will find yourself asking a whole new set of questions after reading this book--questions you might wish you started asking long ago "" --Rick Langer Talbot School of Theology/Biola University ""Brad Kallenberg brings a strong philosophical and theological acumen to God and Gadgets. The very idea that technology is a mixed blessing is a true act of Christian witness in a culture immersed in all that is 'new-fangled' and thus considered almost in god-like terms. Kallenberg addresses in trenchant and true ways the claims of God and the Gospel on our gadget-infested culture. His prophetic voice rings true from a Christian perspective, much as an earlier philosopher, Ernesto Grassi, did in his insistence that technology has its own set of hazards. This is a must read for preachers and other scholars in our time."" --Rodney Wallace Kennedy Baptist House of Studies, United Theological Seminary About the Contributor(s): Brad J. Kallenberg is Associate Professor of Theology at the University of Dayton He is the author of Live to Tell: Evangelism for a Postmodern Age (2002) and Ethics as Grammar: Changing the Postmodern Subject (2001).
Cascade Books, 9781608993994, 172pp.
Publication Date: January 1, 2011