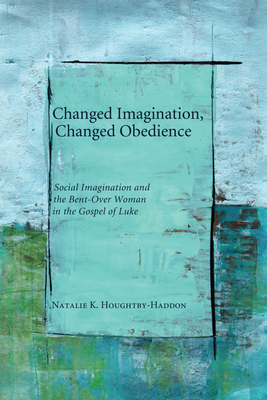 Changed Imagination, Changed Obedience (Paperback)
Social Imagination and the Bent-Over Woman in the Gospel of Luke
Pickwick Publications, 9781608996759, 170pp.
Publication Date: April 7, 2011
Other Editions of This Title:
Hardcover (4/7/2011)
* Individual store prices may vary.
Description
Synopsis: In this work, Houghtby-Haddon takes a new look at an old text, using a theory of the Social Imagination as an exegetical guide. In her exploration of the Bent-Over Woman story in Luke 13:10-17, Houghtby-Haddon uncovers clues suggesting that this story is a key interpretive text for seeing Luke's social vision for his community at work. Exploring mythic, social, communal, and cultural elements beneath the surface of the story, Houghtby-Haddon suggests that the Bent-Over Woman is the embodiment of Jesus' claim in the synagogue in Nazareth that "today, these Scriptures are fulfilled in your hearing" (Luke 4:16-21), and that the woman prefigures the post-Pentecost community that will gather in Jesus' name. The author concludes by taking the theory from the Gospel of Luke to the streets to see how a contemporary neighborhood group might use the Social Imagination model--and the new reading of the story of the Bent-Over Woman--to imagine a twenty-first-century social vision for its own community: a vision that more fully embodies the just community Jesus proclaims in Nazareth. Endorsements: "Houghtby-Haddon combines expertise in biblical studies with theory from the history of religions and cultural anthropology to address a critical issue in the way policy is formed in our current social practices. It encourages leaders at all levels of our society to imagine alternative and creative responses to social issues and structural problems, and to think deeply about the relation between social structure and human well-being. The process she describes is in fact an outline of the creative construction of social formations that can support human well-being. Leaders in all of our political, social, and religious institutions will want to read this book." --Burton L. Mack author of Myth and the Christian Nation "This book is a must read for anyone interested in understanding how scriptures can be used to understand contemporary social issues. The author's message will be of interest across disciplines and intellectual boundaries. Readers will be rewarded with new insights on how the social imagination applies to building community." --D. Christopher Kayes Dean's Research Scholar and Associate Professor of Management The George Washington University "My friend and colleague, Natalie, has brought her many talents and considerable skills together in this remarkable book, unfolding a new metaphor and thus a new vision for congregations and communities seeking to fulfill God's future. With a sincere passion for deeper understanding and an impressive array of technical and conceptual skills, Natalie bridges the millenniums to show us how Luke's Bent-Over Woman can illuminate Christ's mission in practical ways for our own time." --Bishop Mary Ann Swenson Los Angeles Area of the United Methodist Church Author Biography: Natalie K. Houghtby-Haddon is the Associate Director of the George Washington University Center for Excellence in Public Leadership, and also teaches New Testament for the George Washington University Department of Religion. She is an ordained elder in the United Methodist Church and previously served a number of churches in Southern California.