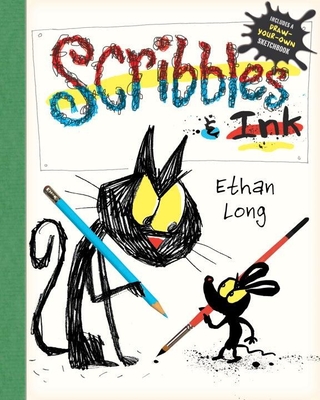 Scribbles and Ink (Hardcover)
Blue Apple Books, 9781609052058, 36pp.
Publication Date: May 22, 2012
* Individual store prices may vary.
Description
Two artists, two styles, and one book that may not be big enough for the both of them. See, Ink (the mouse) likes things to be clean and precise. Scribbles (the cat) is the opposite. But while there should be plenty of room for each of them to make their art without getting in each others way, or on each others nerves, THEY CAN'T MANAGE THAT And from there paint splatters, ink goops, pencils get broken and brushes go wild until...it's not a work of art, IT'S A MESS Discovering that they are no longer having any fun, the duo tentatively tries to collaborate instead of clobber, and, thus, a disasterpiece becomes a masterpiece. Include a giant fold-out and a detachable sketchpad. With this much creative friction, will this disaster-piece ever become a masterpiece?
About the Author
Ethan Long grew up in Pennsylvania and attended the Ringling School of Art and Design. His early list of prominent clients included Nickelodeon Studios, Scholastic, Barnes and Noble and Harcourt. Ethan's career then led him into children's books. He also decided to try his hand at an animated television series and created "Tasty Time With ZeFronk!," a short-form animated preschool series currently airing on Playhouse Disney. His work has earned many awards and has been included in the prestigious Society of Illustrators shows in Los Angeles and New York. The author lives in Orlando, FL.
Praise For Scribbles and Ink…
Praise for The Book That Zach Wrote:

"I should mention that I also got a sneaky peek look at a little of the Spring 2011 list and found something entirely unexpected. There is a book on there that I want. A cumulative book. A cumulative book that's by Ethan Long. I like Long just fine, but I've been waiting for years for the perfect Long book to come out so that I could review it. I believe that my prayers have been answered with the appearance of The Book That Zack Wrote. I've never seen a cumulative tale that actually made me laugh before. Somehow or other, Long has managed it. But you'll just have to wait to see what I mean..." --Elizabeth Bird, A Fuse #8 blog on the School Library Journal website
or
Not Currently Available for Direct Purchase