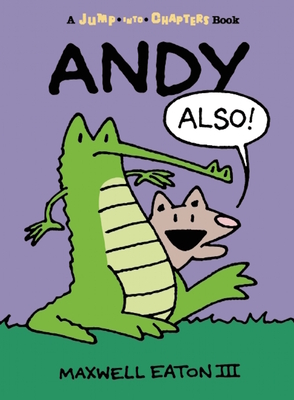 Andy Also (Jump-Into-Chapters) (Hardcover)
Blue Apple Books, 9781609054571, 96pp.
Publication Date: November 11, 2014
Other Editions of This Title:
Paperback (12/2/2014)
* Individual store prices may vary.
Description
"Whether readers are the 'Preston' or 'Andy' in their own friendships, they'll find this duo's interactions irresistible."--Publishers Weekly, starred review for Okay, Andy Two Andys? Twice the Fun Andy and Preston are back for a brand-new nutty adventure--only this time there are two of them Well, not two Prestons. Because Preston has decided that from now on, he is also going to be called Andy. Guess who doesn't like this, AT ALL? As Andy tries to convince Andy that he should be the only Andy, the buddies share noisy fun, talk about rabbits, and the confusing arrival of... Dr. Turkeyfeet?
About the Author
Maxwell Eaton III grew up in Vermont where he spent his childhood climbing trees, damming streams, and spying on unsuspecting cows. He now creates children's books in Tucson, Arizona, where the trees can't be climbed and the streams run dry, but the cows are still relatively unsuspecting. He is the author and illustrator of the Adventures of Max and Pinky series, The Flying Beaver Brothers graphic novels, and Two Dumb Ducks. To find out more, visit www.maxwelleaton.com.
or
Not Currently Available for Direct Purchase