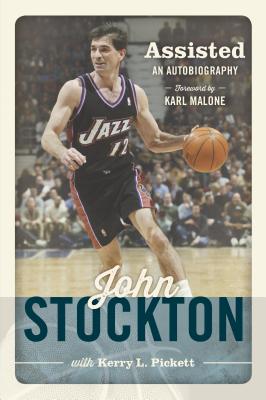 Assisted (Hardcover)
Shadow Mountain, 9781609075705, 384pp.
Publication Date: October 29, 2013
* Individual store prices may vary.
Description
John Stockton's #12 hangs in the rafters over the Utah Jazz, yet he's always been a private man. Now scores of fans finally have a window into the man behind jersey, and they have it in his own words. In his autobiography, John invites readers to learn about his life from childhood to the NBA, his work ethic and his friendships with other NBA greats, and his personal beliefs and why family is paramount in his life.

About the Author
An NBA Hall of Famer regarded as one of the best point guards of all time, John Stockton holds the NBA record for most career assists and steals by a wide margin. Fast, gritty, and a durable player who could read a basketball floor as well as anyone who ever played the game, during his nineteen-year career with the Utah Jazz he was a ten-time NBA All-Star, an NBA All-Star Game MVP, an a two-time "Dream Team" Olympic gold medalist during the '92 and '96 games and in the nearly two decades that Stockton wore #12, the Jazz never missed the playoff season. He and his wife live in Spokane, Washington.