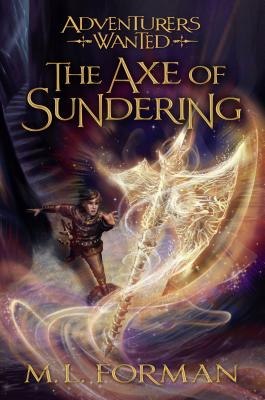 The Axe of Sundering, 5 (Adventurers Wanted #5)
Hardcover

* Individual store prices may vary.
Other Editions of This Title:
Paperback (10/3/2018)
Compact Disc (10/3/2017)
Description
Whalen Vankin is the world's greatest wizard, and he has only ever personally trained two other wizards. One is Alexander Taylor, a young man who has earned a reputation as a brave adventurer, a warrior, and man of honor. The other is Jabez, Vankin's nephew and a man whose choices have led him down a different, darker path. Dark magic has covered Westland, and evil is stirring. Whalen and Alex must journey together into the heart of danger, confronting a sea serpent, battling their way through a goblin army, and facing down more than one dragon. Alex must find the legendary Axe of Sundering, the one weapon that offers a chance to defeat Jabez and protect the land from the dark wizard's plans. But finding it will be an adventure of its own as the only pathway to the Axe leads through the underground tunnels and secret passages of Castle Conmar. But Jabez has one final weapon at his disposal: the powerful Orion Stone, which could spell the end to Whalen and Alex both.

Shadow Mountain, 9781609079345, 432pp.
Publication Date: October 3, 2017
About the Author
M. L. Forman lives in the western Rockies. He tries to write as much as possible while still attending to his many other hobbies, such as fishing, camping, hiking, and almost anything that will allow him to enjoy the magic of nature. He is also the author of Slathbog's Gold, The Horn of Moran, Albrek's Tomb, and Sands of Nezza--the first four books in the Adventurers Wanted series.