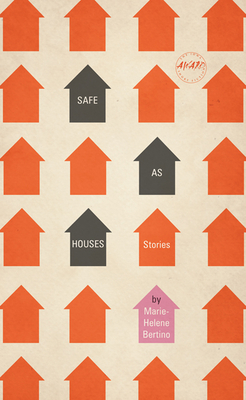 Safe as Houses (Iowa Short Fiction Award)
Paperback

* Individual store prices may vary.
Description
Safe as Houses
, the debut story collection of Marie-Helene Bertino, proves that not all homes are shelters. The titular story revolves around an aging English professor who, mourning the loss of his wife, robs other people's homes of their sentimental knick-knacks. In "Free Ham," a young dropout wins a ham after her house burns down and refuses to accept it. "Has my ham done anything wrong?" she asks when the grocery store manager demands that she claim it.  In "Carry Me Home, Sisters of Saint Joseph," a failed commercial writer moves into the basement of a convent and inadvertently discovers the secrets of the Sisters of Saint Joseph. A girl, hoping to talk her brother out of enlisting in the army, brings Bob Dylan home for Thanksgiving dinner in the quiet, dreamy "North Of." In "The Idea of Marcel," Emily, a conservative, elegant girl, has dinner with the idea of her ex-boyfriend, Marcel. In a night filled with baffling coincidences, including Marcel having dinner with his idea of Emily, she wonders why we tend to be more in love with ideas than with reality. In and out of the rooms of these gritty, whimsical stories roam troubled, funny people struggling to reconcile their circumstances to some kind of American Ideal and failing, over and over.  The stories of
Safe as Houses
are magical and original and help answer such universal and existential questions as: How far will we go to stay loyal to our friends? Can we love a man even though he is inches shorter than our ideal? Why doesn't Bob Dylan ever have his own smokes? And are there patron saints for everything, even lost socks and bad movies?  
All homes are not shelters. But then again, some are. Welcome to the home of Marie-Helene Bertino. 
Praise For Safe as Houses (Iowa Short Fiction Award)…
"Marie-Helene Bertino's stories are hilarious and heartbreaking and wildly inventive, and her narrators are endlessly appealing and both fiercely proactive and stubbornly self-defeating. That's more than enough for me."—Jim Shepard 
"When have I last read such highly original stories? With a surreal edge and a brilliant dark humor, Safe as Houses's tales of daughterhood and its mishaps mark a staggeringly good debut."—Deb Olin Unferth, author of Revolution 
University Of Iowa Press, 9781609381141, 164pp.
Publication Date: October 1, 2012
About the Author
Marie-Helene Bertino's stories have appeared in The Pushcart Prize AnthologyXXXIII, North American Review, Mississippi Review, Inkwell, The Indiana Review, American Short Fiction, and West Branch. Bertino received a Pushcart Prize in 2007 and a Pushcart Special Mention in 2011. She was chosen as a Center for Fiction NYC Emerging Writer's Fellow in 2011. She hails from Philadelphia and lives in Brooklyn, where for six years she was the associate editor of One Story.