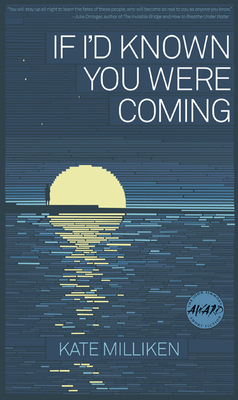 If I'd Known You Were Coming (Iowa Short Fiction Award)
Paperback

* Individual store prices may vary.
Description
In these twelve award-winning stories, Kate Milliken unflinchingly shows us what can happen when the uninvited guest of our darkest desires comes to call. Whether surrounded by the white noise of a Hollywood celebration or enduring a stark winter in Maine, the characters of If I'd Known You Were Coming yearn to heal old wounds with new hurts. With a wry wit and a keen eye for emotive detail, the author of this unforgettable collection sets intersections in motion that will leave you both winded and wanting more.
In one story, a mother, driven by greed, unwittingly finds out how far her needs will push her. A hand model surprises himself and everyone else at the birthday party of an old friend's daughter in another. With poetic deftness, a woman evaluates the meaning, the familial stories, that we carry with us from birth. In a story ripped from the headlines, a woman pines for the legs her husband lost in a freak accident at a Santa Monica farmer's market. A medical clerk, restless and alone, takes advantage of a disabled neighbor.
Kate Milliken knows the ties that bind and how tautly we will pull them. These are stories about desire, betrayal, love, regret, and family. Like all great fiction, If I'd Known You Were Coming possesses that uncanny ability to reveal us to ourselves.
Praise For If I'd Known You Were Coming (Iowa Short Fiction Award)…
"The startling, darkly beautiful stories of Kate Milliken will make you uncomfortable, disquieted, suspicious, even weirdly aroused—and you will be left with the realization you don't know everyone you thought you knew, the equivalent of a camera pressed through the bedroom blinds of the couple next door. She never flinches, but you will."—Benjamin Percy, author,
Red Moon
"Kate Milliken's stories burn straight to the darkest places in our hearts, speaking aloud the thoughts we hardly dare to call our own. In twelve flawless pieces, Milliken expertly illuminates the aftermath of abandonment; her characters, cast adrift, find themselves painfully alone, futilely seeking what was torn away long ago. Milliken writes with merciless precision about women and men, about the old and the young, about the betrayers and betrayed. You will stay up all night to learn the fates of these people, who will become as real to you as anyone you know."—Julie Orringer
"These twelve marvelous stories expose the tenacity of blood memory: tender, accusatory, sometimes off course. Here, the aftermath of abandonment is replete with risk, sensuality, and truth; loss and replacement repeat in endless cycles, both vital and sorrowful. In these brilliantly wise, emotionally haunting stories, Kate Milliken reminds us how wildness can overtake the most mundane circumstance, how the quietest inclination toward loyalty or betrayal can alter, even determine, fate."—Melissa Pritchard, author,
Spirit Seizures
"Subtle and suspenseful stories filled with the kind of precise and original detail that portrays all the complexity of our lives."—Sheila Kohler, author
, The Bay of Foxes
"These twelve elegant, edgy, and deftly made stories are full of ravenous women, hungry for money, attention, fame—sometimes even fame by proxy—and sometimes even food. Highly compelling and a little bit terrifying, If I'd Known You Were Coming is a terrific debut."—Pam Houston, author, Contents May Have Shifted
University Of Iowa Press, 9781609382018, 126pp.
Publication Date: October 1, 2013
About the Author
Kate Milliken's stories have appeared in Zyzzyva, Fiction, New Orleans Review, and Santa Monica Review, among others. A graduate of the Bennington College Writing Seminars, the recipient of fellowships from the Vermont Studio Center, the Tin House Summer Writer's Workshop, and several Pushcart Prize nominations, Kate has also written for television and commercial advertising. She currently teaches on behalf of the UCLA Extension Writers' Program and lives in Mill Valley, California, with her family.

or
Not Currently Available for Direct Purchase