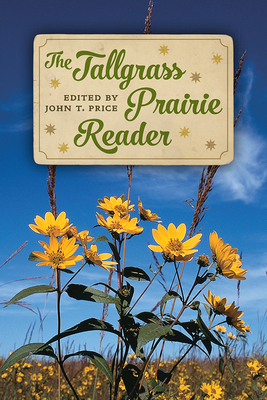 The Tallgrass Prairie Reader (Bur Oak Book) (Paperback)
University Of Iowa Press, 9781609382469, 334pp.
Publication Date: June 1, 2014
* Individual store prices may vary.
Description
The tallgrass prairie of the early 1800s, a beautiful and seemingly endless landscape of wildflowers and grasses, is now a tiny remnant of its former expanse. As a literary landscape, with much of the American environmental imagination focused on a mainstream notion of more spectacular examples of wild beauty, tallgrass is even more neglected. Prairie author and advocate John T. Price wondered what it would take to restore tallgrass prairie to its rightful place at the center of our collective identity.

The answer to that question is his Tallgrass Prairie Reader, a first-of-its-kind collection of literature from and about the tallgrass bioregion. Focusing on autobiographical nonfiction in a wide variety of forms, voices, and approaches—including adventure narrative, spiritual reflection, childhood memoir, Native American perspectives, literary natural history, humor, travel writing and reportage—he honors the ecological diversity of tallgrass itself and provides a range of models for nature writers and students.

The chronological arrangement allows readers to experience tallgrass through the eyes and imaginations of forty-two authors from the nineteenth to the twenty-first centuries. Writings by very early explorers are followed by works of nineteenth-century authors that reflect the fear, awe, reverence, and thrill of adventure rampant at the time. After 1900, following the destruction of the majority of tallgrass, much of the writing became nostalgic, elegiac, and mythic. A new environmental consciousness asserted itself midcentury, as personal responses to tallgrass were increasingly influenced by larger ecological perspectives. Preservation and restoration—informed by hard science—emerged as major themes. Early twenty-first-century writings demonstrate an awareness of tallgrass environmental history and the need for citizens, including writers, to remember and to help save our once magnificent prairies.
About the Author
John Price is the award-winning author of the memoirs Man Killed by Pheasant and Other Kinships (Iowa paperback, 2012), Not Just Any Land: A Personal and Literary Journey into the American Grasslands, and Daddy Long Legs: The Natural Education of a Father. He is a professor of English and director of the Creative Nonfiction Writing Program at the University of Nebraska at Omaha. He lives in the Loess Hills of western Iowa.
Praise For The Tallgrass Prairie Reader (Bur Oak Book)…
"Finally, here is a lovingly gathered bouquet of prairie wildflowers. This collection does not stop at commemorating all that we've lost, but revives the wildness in our imaginations—the first step toward restorative action."—Julene Bair, author, The Ogallala Road